First National Bank of Syracuse is now Dream First Bank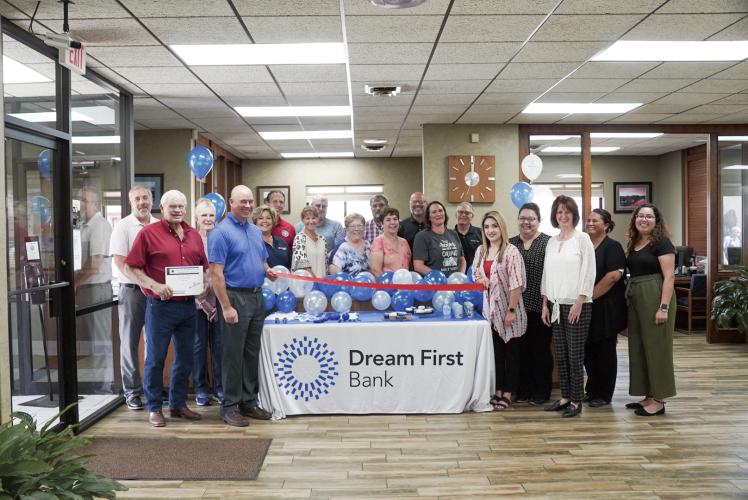 First National Bank of Syracuse is now Dream First Bank.
No, the First National Bank of Syracuse did not sell or merge. Instead they have been working towards this new name, "Dream First Bank."
According to CEO Chris Floyd, "It's a lot like naming our own kid. It's a big deal and we are excited about it. We have been in business for over 100 years. and have branches in Syracuse, Johnson, Garden City, and Ulysses."
On Monday, September 19, they held a ribbon cutting in Syracuse to announce their new name and offered giveaways of key chains, cupcakes, and a few more items.
Krista Norton researched the history of the bank for the 2021 Syracuse Journal article on The First National Bank of Syracuse.
The bank received its charter in 1906, but prior to that the bank began in 1886 when W.F. Reed immigrated to Syracuse. According to a letter written by Reed to cashier, H. E. Roundtree and then president, W. C. Daugherty, dated September 14, 1929, he writes about his memories of the prior forty-three years.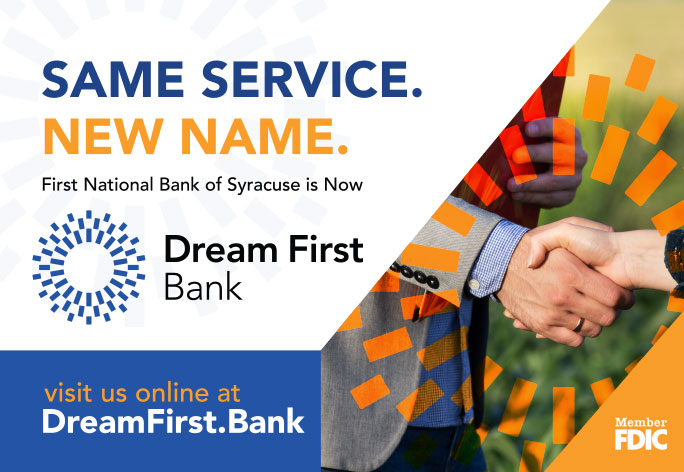 He recalls Syracuse had one bank owned and operated by John, Frank and Lee Bentley of Iowa. The brothers didn't care for Reed coming in with competition.
He writes, "They rather resented my intruding upon territory they considered already covered. However as business ethics were at a rather low ebb, at least that in Western Kansas, I did not consult their wishes."
He recalls there were no municipal organizations, but the streets were laid out, two south of the railroad and two north. He remembers there were churches, without buildings, but the Methodist did have a stated pastor.
Reed purchased a vacant lot for $1,000. He put together a contract to build a two-story 25' X 40' brick building on the east side of north Main. J. L. McNeil was the contractor who burned the brick and built the first brick building in Hamilton County for $4,000.
The bank opened in October of that year. He went on to say he was a little more than a boy, without banking experience and he sometimes wondered at his nerve. But figured it was a case of fools rushing in!
Gambling was very much in vogue and there were those who followed it as a profession. Six shooters on the hip were a common sight and the cowboys from neighboring ranches sometimes let off their energy by exhibiting their horsemanship and gun dexterity up and down Main Street.
The banks in those days were an easy target for robbers, as was the case in Holly and Lakin, which were blown open and robbed. Kendall, Coolidge, Stanton, and Morton County banks soon closed due to failure of wheat farming, leaving the Bank of Syracuse as the only operating bank in the area.
Syracuse Branch President Kim Brown was hired in 1990 by the late Roger Bergsma. Brown said, "The bank received their charter as First National Bank in 1906 and the bank was later purchased by the A.J Gould and Alonso Gale families.Brown recalls tellers Joyce Blue and Betty Grove laughing at A.J Gould when he would come to audit the teller drawers, opening them and saying, "Looks about right!"
Floyd was hired in 1996 and became Co-Presidents with Terryl Spiker in 2002. Later, Floyd became the CEO.
In 2019, The First National Bank received the Banky 2019 Extraordinary Bank of the Year award. Floyd was quoted in an interview saying, "We have to grow and change all the time and ask how can we do this better. How can I be better? And how can every employee be better in every part of their job? "
Due to a shortage of chips, they don't want to stress the system, so there won't be a blanket card changeout. It will happen slowly as cards are reissued. But new signs, new advertising is beginning.
Brown said, "We are super excited to have Dream First Bank as our new name and we look forward to the future. "
According to their press release, Dream First will continue to leverage its resources through conventional banking and loan opportunities as well as utilize the non-conventional solutions for which it has become known to ensure customer success. Dream First is committed to diligently help every new dream come to life across the U.S., while continuing its long-time support for the local community.
"Our name may have changed, but our ownership, management and core values have not," said Chris Floyd, president and CEO of Dream First Bank. "We have been firmly established for more than 100 years and family-owned for the last 40 years. We remain the same people our customers have come to depend on with a smile, a handshake and a way to help people reach their next goal. We believe that our name should be synonymous with our vision, which is to Dream First!"
Dream First Bank offers its banking services to customers nationwide, providing options for agriculture, business and families such as: Deposit Accounts, Operating/Working Capital Loans, Business Manager Receivables Purchasing, Equipment Term Loans, Real Estate Loans, Treasury Management Solutions, Digital Account Management, Savings/Certificates of Deposits and more.