Omicron Variant in Hamilton County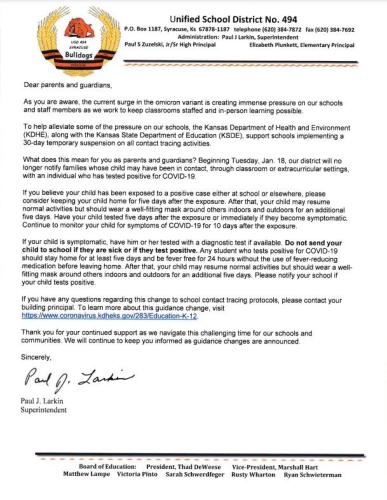 On Tuesday, January 18, 2022, the KDHE announced that as of February 1, 2022, COVID-19 contact outreach and monitoring would be discontinued. The KDHE contact tracing staff will be reassigned to contact investigations.
The letter added that individuals who are positive for COVID-19 will now be responsible for letting their close contacts know about their potential exposure. Additionally, if the individual with COVID-19 exposed others at high-risk settings such as schools, correctional facilities, long-term care facilities, homeless shelters, daycares and churches, KDHE or the local health department will notify the setting. The setting will be responsible for identifying close contacts and notifying them about the potential exposure.
USD 494 Superintendent Paul Larkin announced that afternoon new measures in a letter circulated on social media to get the information.
Hamilton County Health Nurse, Jonna Upson, clarified, "One important note is there is a difference between household contacts and close contacts. Close contacts are kids at school, people you work with whereas household contacts are those in your home."
Upson added that some of the main symptoms of the Omicron variant is a sore throat and fever.
Since January 1, there have been 64 confirmed positive cases. This does not include at home positive tests.
An important reminder is to stay home if you are sick. If you are wanting free at home Covid tests, they became available on Wednesday. You can go to https://www.covidtests.gov/ and order four per household. Orders ship in 7-12 days.