Rain and Our County Roads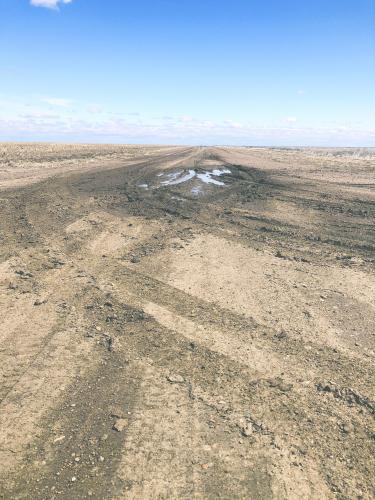 A .25 inch of beautiful gentle rain fell on our county Monday mixed with a little snow. As farmers and most of our county population were thrilled, there were many who have concerns regarding our county roads.
I spoke with Road Department Supervisor Frank Burns and Hamilton County Commissioner Randy Braaddock about the issue.
Burns explained the process. "Our county is divided into four sections - NE, NW, SE, SW. It takes two graders per section. We have nine people and seven graders to cover a 700-800 miles of road."
He explained it takes two graders 15 to 20 days to get a round done in each section. They try to put a crown on the road by pulling shoulders up. So if they start at the Northeast section and grade back and forth to the south end of their section and then we have a rain in the middle of their time, what happens?
Do they pull the graders up to fix the north or do they continue grading south? And then if they do go back but a rain comes in the south, what happens then?
Of the nine people who work at the road department, one of them is a mechanic and the other is Burns himself.
"We grade roads. But we also are working on drainage that has been neglected. We clean and replace culverts, mow, run the screening plant for gravel on the road, upkeep equipment and help the Saddle Club with water for the arena, help other county entities with equipment maintenance like the fair board mowers. We are also in charge of the landfill," added Burns.
Burns himself runs to Wichita or other areas to pick up equipment or culverts, he helps blade and more.
Burns explained if a grader is out of commission due to a repair, a rebuilt engine, or being shot up, that's less graders. Also if a person is ill, has an accident or on vacation, that's another man down. Add to that harvest and trainings.
Commissioner Braddock added, "When you have a dry spell, you are limited in what you can do. We do more damage to the roads by grading because the dirt blows away.Then when we get moisture it's a rush to get a good finish on the roads."
Braddock invites anyone to drive other county's roads to see that Hamilton County roads are good.
"I drive county roads all the time when I go places to see how they are doing and I think Frank is doing a marvelous job."