THE COMMUNITY IMPACTS THE STUDENTS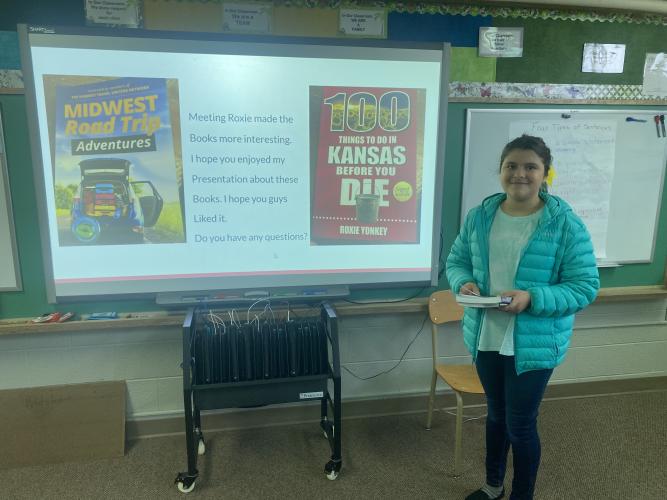 Syracuse Elementary School fourth grade teacher Mrs. Neubrandt was approached by Mia Boy about speaking to her class about the book signing she attended last Tuesday night with her mom meeting Roxie Yonkey at the Northrup Theatre.
Neubrandt felt this was an opportunity for more than just a quick show and tell to the class and that it could be much more. She asked Mia to use the evening to put together a slide presentation lasting from five to ten minutes that would be presented three times the next day.
Neubrandt approached the newspaper to cover the event as well.
The newspaper gladly agreed.
Mia was excited and with some help from her mother, she got to work.
When asked why she wanted to do this, Mia replied, "I like reading and I want to encourage others to read more. You can learn so much."
Neubrandt felt this project was important to stress the importance of how the community impacts the school. "What goes on out in the community comes back into the school. It's important when they do something in the community it impacts the students."
Mia presented to her classmates the books, "MIDWEST Road Trip Adventures" that Yonkey co-wrote and "100 Things to do in Kansas Before You Die" which features the Syracuse Sand Dunes.
She discussed the fun facts she learned like Kool-Aid was invented in Nebraska, showed the class where Yonkey signed the book to her, and and how meeting the author made reading these books more exciting.
Her classmates were engaged in the presentation and asked questions about Kansas and the author.
rn
Elementary Principal Liz Plunkett commented, "What a great idea it would be for families to pick up a copy and try to do all 100 things in the book."