WEEKEND IN SYRACUSE BUSY WITH GOLF, COLOR RUN, AND CAR SHOW
Mother Nature delivered a beautiful day Saturday for the many happenings in Syracuse with the Hamilton County Hospital Golf Tournament, Crusin' Into Summer Car Show and SHS cheerleader color run.
The first golf tournament had 27 teams enter from Syracuse, Denver, Colorado, and Oklahoma. The winning team was Dallas Hoover, Kayla Garcia, and Albert Garcia. It was a tie for first with Jeff Mathias, Vance Keller, and Tom Zuzelski. The tie breaker was scores from the toughest hole down. First Flight: 1st place Corey Hatcher Trevor Stucky Joe Englert
Second place: Kevin Hoover Shane Stramel James Luce Second Flight winner: Issac Armstrong John Armstrong Trent Armstrong Second : Ellie Seba Todd Seba Marla Howell. Last place was Megan Pope, Jerrad and Alyssa Banning who received a handmade trophy constructed by HCH Physical Therapist Cameron Jackson.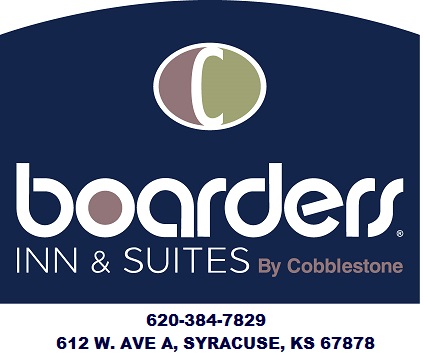 Hospital administrator, Kelly Hatcher said, "I'm incredibly proud of the team and their commitment to giving back. I feel like we do this daily in our role as healthcare providers in Hamilton County, but the staff truly embody purpose-driven service and strive to go above and beyond in everything they do."
She credits the Staff Engagement Committee who put a lot of time and passion into making the event possible.
They have not officially declared the two $500 scholarship winners, but will be announcing those soon. *note -received word there was enough money to do three scholarships! None of this would be possible without the generous support from our sponsors and local community.
The Historic Northrup Theatre was the starting point for the 19th Annual Crusin' Into Summer Car Show. Forty-six entries from Colorado and Kansas cruised in to enjoy one of the first car shows in the area of the season. After registration, the entries lined up on both sides of the second block of Main Street.
This popular event attracts individuals and families, coming to enjoy the cars, seeing friends, and visiting owners about the history of their cars. Twenty of the 46 were local entries.
Best of Show winner was local resident, Jenny Schwieterman, with her 1960 Triumph TR3, originally owned by her mother, Jolene Norton who purchased it in 1963 from people traveling through Syracuse and the car overheated. So they traded it for a Chevy at the local Cross Motors dealer.
The Nortons owned the Phillips 66 station and they cleaned new and used cars for Cross Motors. When the TR came to the station, Jolene had to have it. The girls used to drive the car to school. "My sister Chris, 14 at the time, would drive us, Jeff and I crawled in behind the seats, Craig and Chris in the front.
The off-frame restoration took one year and during that process, they found roll bar holes in the floor behind the seats, confirming the rumor that it has once been a race car.
"These cars do not have air conditioning, cup holders, cruise control or power steering, and they have a stick shift, very vintage!"
People's Choice winner was a 2007 Roush Mustang owned by Pete Jensen, Sharon Springs. Jensen has attended the car show in Syracuse for many years, "I had eight classic cars, I sold when I sold my business. I decided I had to have something to replace them, so I drove to Casper, Wyoming a couple years ago to get this."
He put in a new interior, and buffed the pin striping off and hopes to repaint it someday. "I was really surprised to win this today, thank you."
The SHS cheerleader color run fundraiser attracted 33 participants, including young ones in strollers, dogs on leashes, participants enjoying a walk, to help the cheerleaders.
Beginning behind the school, they were led by a "colorful" decorated golf cart. There were several "color" stations along the route and two water stops.
Yohan Perez was the first to cross the line in the 5K with a time of 29:56, first for a 5K team was "Tie Dye" Alyssa Banning and her daughters along with Piper Ochs. Staci Stephenson and son Felix were first in the one mile.
The general consensus was the run was a lot of fun.
Head coach Kayla Norton was pleased with how hard the girls worked. Proceeds from the run will go towards camp and competition this year. They hope to have a glow run in the fall.