Where Are They Now? Cynthia (James) Long and Richard James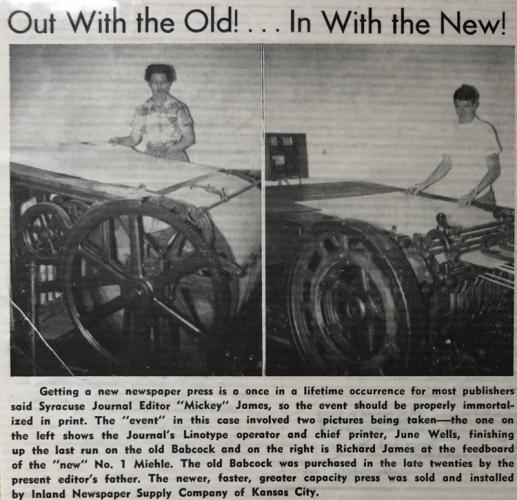 "STOP THE PRESSES!" Cynthia Long, has only been able to effectively shout that one time in her life, but it was for a very good reason. Her father, Albert "Mickey" James, the "Syracuse Journal" owner and publisher, had published top secret, surprise details about the 1953 Syracuse High School Junior-Senior prom. What Mickey did next will warm your heart.
Each month, we strive to capture the stories and the lives of Hamilton County people who have ventured beyond the borders of the county line; to reflect on the people and moments in Hamilton County history that have shaped who they are today. This month's "Where Are They Now?" visits with Cynthia (James) Long and Richard James, the two youngest children of Albert and Rowena James, the owners and publishers of the Syracuse Journal in the 1930's through 1965. Their older brother, Robert James, Syracuse High School Class of 1949, passed away in 2016, but Cynthia and Richard shared their memories of growing up in and around Syracuse and being a part of documenting the stories that would become today's Hamilton County history.
In preparing for the 1953 prom, Cynthia and the junior class acquired very special French party favors that would be the surprise decoration and gift to their classmates, something unique and normally not attainable in Southwest Kansas. The Paris theme was a secret, but Mickey published a story in "The Syracuse Journal," spilling all the secret details. This paper would be in every home on the Thursday before Saturday's prom. Cynthia remembered, "I was screaming and crying and jumping up and down. Dad stopped the presses, rewrote the article entirely, and reprinted those pages." Mickey James protected the secret prom theme for the Class of 1953, and his restored his daughter's faith in his ability to protect her, as well. "He was such a kind man," she reflected quietly.
Cynthia was the second James child, born on November 19, 1936, in the Donahue Hospital during The Great Depression. Richard followed, weighing more than ten pounds, on July 9, 1941, also born at the Donahue, and both with bright red hair like their mother. They lived at 321 N. Gates Street in a pink, stucco house, located on the southeast corner of Gates Street and Avenue D. They had a fish pond in the back yard. The Syracuse Journal was in the office next to the Ames Hotel, located at Main and Avenue B. Her father owned both, so they grew up learning the business of newspaper publishing, unless young Richard felt the need to explore. Richard loved watching the trains and remembered, "It was World War II at that time. There were lots of trains, hauling soldiers from training in the west to the East Coast where they would board the boats to go to Germany. There were a lot of trains going through Syracuse then." As a small child, between the ages of four and five, Richard frequently rode his tricycle to the tracks to watch the trains, visit with the railroad crews, and explore. As the crews were working on the trains, tracks, and signals, their wives would be on the train cars and would welcome him aboard for cookies. One time, they took Richard on a train ride to Coolidge. Richard knew where he was, his new friends at the railroad knew where he was, but his family did not. Knowing this was a favorite place for him to visit, the family found his tiny tricycle near the tracks, yet no sign of Richard. To everyone's relief, the train reversed at Coolidge and returned Richard safely home to Syracuse.
As a slightly older boy of 5 or 6 years old, now riding on two wheels, Richard returned to the tracks to enjoy his beloved trains. As one train sat on the tracks, Richard parked his bike by the empty tracks and decided to count the cars in this lengthy train. He let the ties be his path to the end of the stagnant train. The solitude of his boyhood world was abruptly interrupted by the familiar blast of the train horn. Richard turned to find a train barreling right for him, but worse yet, his bicycle that was on the tracks. He ran with all of his might, snatched his bicycle, and removed himself from near catastrophe. He remembered, "It was really close!" As with any story of childhood calamity and mischief, this was the first time his older sister had heard of his near-death experience. Richard, now nearing 80, kind of chuckled. The James family attended church at the Syracuse United Methodist Church, both at the old location on Gates and Avenue B where the Masonic Lodge is currently located, but also in the new and current location on Main Street and Avenue E. Their father, Mickey James, taught the children's Sunday School class. Cynthia hypothesized that her father taught the class because Richard was so naughty that no one else would teach his class. The church's beloved organist, Willa Dulin, was music teacher to the James children.
Mickey wrote and published the paper in the office in Syracuse, where Cynthia started working early. Mickey would send young Cindy to first collect delinquent accounts because, after all, no one could refuse an adorable, red-headed child in pigtails who was there to collect a few dollars for the newspaper subscription. She graduated to securing advertisements from local businesses as she grew older, in her early teens. Mickey had hoped that his sons, Richard or Robert, would want to learn and take over the business when he was ready to retire.
Cynthia continued her services to the family business by writing and proofreading copy, answering the phone, some Linotype, and covering the night shift at the Western Union Telegraph Office at the Ames Hotel. Cynthia laughed, "I don't know why the Western Union office was open all night. We never received a single telegram in all those years I worked overnight." She was, however, startled as a gentleman visiting a hotel guest was intoxicated and unsteady as he descended the stairs of the hotel, lost his balance, and tumbled all the way to the bottom, getting his head stuck in the banister. As the man recovered from the fall and recognized his inconvenient predicament, head still suck in the banister, he chuckled, "Aw, Miss Cindy, I didn't mean to scare you."
The highlight of Cynthia's Syracuse High School experience was her participation in the band, "I loved the band. It was so fun." The band director was Mr. Charles Howard, who led her and good friend Connie Mayhew in the clarinet section, as well as the rest of the band. The most poignant memory of her band years was a band trip to Wichita. The band stopped for lunch at the Woolworth's lunch counter; however, the staff seated and prepared to serve everyone in the band, except their classmate and friend, Jean Jones, simply because she was black. This was the first time many of them had experienced segregation and blatant racism against one of their own. What would they do? Without hesitation, Cynthia remembered, "The entire band got up and left."
She was a member of Rainbow Girls, a teen organization affiliated with Eastern Star and Masonic Lodges. She chuckled, "I think the main purpose [of the organization] was to keep us all virgins." She held the office of Outer Observer, which watched the door to assure boys didn't come in. She was also the Worthy Advisor, a leadership position. At their meetings, Cynthia remembered, "Women would speak and give advice to keep us away from boys."
Cynthia remembered her physical education class with white jumpsuits that had elastic around the legs of the shorts. She did not remember these outfits fondly as a part of her high school. However, "Mighty as Steel, Strong as Ore, The Senior Class of '54!" was the class chant, creatively penned by the "beloved" 1954 SHS Class President, Warren "Boz" Hartshorn. She remembered how the class loved Boz and the fun times they all had together. In her Senior year, Cynthia was also elected Band Queen. On weekends, she and her friends would watch movies at the Northrup Theater, "a lovely theater," which served popcorn only. No drinks were allowed, as they didn't want to ruin the interior of the theater with sticky soda spilled on the floors.
In June, 1959, The Syracuse Journal would celebrate a once-in-a-career investment of a new printing press. Richard was photographed on the new run at the feed board of the new printing press. June Wells, the Linotype Operator was the Linotype Operator and Chief Printer, working with the molten lead in the printing process. "June was such a character, and so strong. She was a good worker who loved our daddy and enjoyed working for him." Cynthia remembered the incredible process as burners were placed under where the paper was running through the process to cut down on the static electricity. If the static built up, it would cause the sheets of paper to twist up and bind up the machine, wasting countless pages of the paper, not to mention precious time. Mickey would eventually train his successor, Dick Holdren, who bought the paper when Mickey retired with the sole goal of just playing golf, which he did.
Following high school graduation in 1949, the oldest, Robert James, attended Kansas State University in Manhattan, Kansas, where he studied Engineering. He worked at The Fuller Brush Company in Great Bend, Kansas, where he and his family lived for many years until his death in 2016.
Cynthia graduated in 1954, and attended the University of Kansas in Lawrence, Kansas; however, the climate of eastern Kansas caused extreme allergic reactions. A physician advised her to move to a different climate, so after two years of college, she moved to Colorado Springs. At that time, having two years of college and newspaper experience, she was able to secure a job at a newspaper. Her roommate had a boyfriend in the Navy, so, contrary to her father's advice and concern, they moved to San Diego, California. They found a rental house and had to find jobs nearby that they could walk to. Cynthia was hired as an Engineering Aid at General Dynamics, where she calculated the data from test planes, in a large pool of other Aides, sitting in rows and rows of desks in a large factory-sized room. She clarified, "I did what computers do now."
One day, while sitting at her desk, a dried apricot came flying across the room and landed on her desk. Startled, she blurted out, "What's that?!?" A low voice, in a character tone responded, "That's my ear." On this day, she was introduced to Robert Long and his nod to artist Vincent Van Gogh's efforts to woo his love by cutting off his ear and delivering it to the object of his affection. Regardless, Robert's unconventional pickup line and creative use of dried fruit, made a connection and sparked a romance. Robert and Cynthia Long were married on January 31, 1958. They traversed the country to find more challenging engineering jobs on the East Coast and raised two children, Mike Long, currently a software developer in Winchester, Virginia, and Melissa (Long) Etchberger, who sadly died in 1996. Cynthia is widowed and currently resides in Williamsburg, Virginia.
Richard, the ornery youngest child who enjoyed breaking windows and street lights with an arm and accuracy that should have sent him to the Major League, graduated in 1959 from SHS, joined the Air Force and became a jet mechanic. Following his military service, Richard took those skills and became and aircraft mechanic for Frontier Airlines, later purchased by Southwest Airlines. He has been married to his wife for sixty years and had three children, Ronnie James, who played football for the US Air Force Academy in Colorado Springs, Colorado, who is currently an Engineer for General Electric in Cincinnati, Ohio; Judy Hagedorn, a nurse in Brighton, Colorado; and Theresa Hinz, who graduated from the University of Colorado and was recruited to the WNBA, where she played basketball for several years. Theresa is currently the Fire Chief for a Fire Department near Denver, Colorado.
Richard had to end his part of the interview early to help family with a project. Cynthia filled in some of the details, proud that her "dear little brother" not only turned his love and fascination with massive machines used for public transportation into a career, but also into his hobbies. He made extravagant and intricately detailed model air planes that he flew in model air plane clubs and competitions. He fashioned wood and fiberglass into boats, one of which was purchased by Cynthia's family.
When Richard's nephew, Mike Long, got married, Richard and his family flew to Virginia to attend the wedding. Their flight back to Denver was in very close time and proximity to the wedding, so the family went directly to the airport, still wearing their wedding clothes. At the airport, the airline crew announced that the flight was delayed because of mechanical issues with the plane, words no traveler ever wants to hear. Not Richard, however, this was his time to shine. Richard stepped forward, showed his credentials to the airline officials and asked, "Can I take a look at it?" The airline provided him with a pair of all-too-familiar coveralls and put him to work. In short order, Richard had the problem diagnosed and repaired. He and the other passengers flew to Denver, Colorado, on that very plane. Richard continues to live in Greeley, Colorado, with his wife.
In reflecting on her time in Syracuse and the people she has known and loved, who have or still live there, she emphatically noted, "I know they're very strong if they live in that climate." The diverse temperatures, severe weather, drought, and inhospitable winds make living in Southwest Kansas a challenge – not a place for the faint of heart.