Bob Salter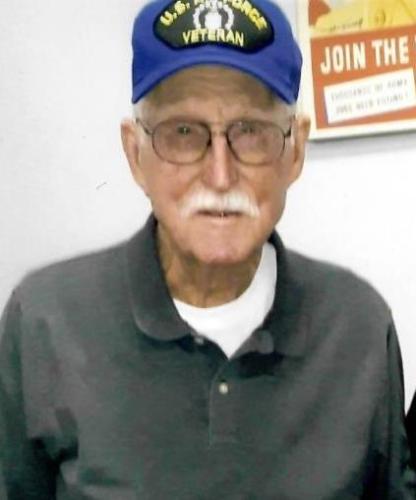 Syracuse- Bob Salter, 90, died on Saturday May 14, 2022 at St Luke's Hospital of Kansas City in Kansas City, Missouri. He was born on June 13, 1931 at Garden City the son of Willis Adelbert & Ethel Leota (Solze) Salter. He married Patricia Ann Kunze on August 3, 1950 at Garden City. She died on October 29, 2021.
Bob was raised south of Garden City in the Plymell area and graduated from Garden City High School in 1949.He served in the United States Air Force from 1952 until 1954. He moved to Syracuse in 1958 to take over the family farm in Hamilton and Kearny Counties.
He was a member of the First Presbyterian Church of Syracuse where he had served as an Elder and served on the session and had been Chairman of the Pastor Search Committee. He also was a member of the Masonic Lodge #309 and had served as Master of the Lodge 2 times. He also served on the Hamilton County Library Board, Hamilton County Farm Bureau Board of Directors, Syracuse Housing Authority Board. He was a member of Order Of Eastern Star, American Legion Post #27, ARRL Amateur Handheld Radio Operators Club and was a longtime Boy Scout volunteer.
He is survived by his Granddaughter- Shylah & Shane Hoover, Sister- DeeDee Ward, Son-In-Law- John Vagher, Daughter-In-Law- Joyce Salter, Great-Granddaughters- Kanyon & Kayla Branham and Alize Vagher and Great-Grandsons- Ki Vagher-Salter and Luke Mauch.
He is preceded in death by his Parents, Wife, Son- Alan Salter and Daughter- Patrice Vagher.
Funeral Service will be Saturday, May 21st at 10:00 AM MDT at First Presbyterian Church in Syracuse with Rev Ardeen Webster Officiating. Burial will be in Syracuse Cemetery with military honors by United States Air Force Honor Guard and American Legion District 8 Honor Guard. Memorials are suggested to American Legion Post #27 in care of Garnand Funeral Home. Friends may call from Noon to 8:00 PM Friday at Garnand Funeral Home in Lakin. Condolences may be posted at www.garnandfuneralhomes.com
Garnand Funeral Home. 412 North 7th Garden City, Ks. 67846. 620-276-3219.
--