Darrell D. Markley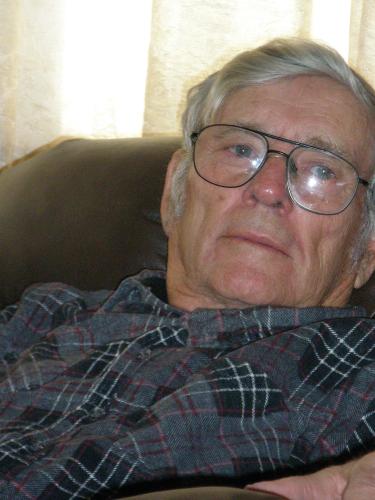 Darrell D. Markley passed away on Sunday August 7, 2022, at the age of 95 at the Hamilton County Hospital ISB in Syracuse, Kansas. He was born on September 23, 1926, in Enterprise, Kansas the son of Oscar Markley and Nellie (Richards) Markley.
Darrell was raised in Abilene, Kansas where he worked his way through Junior High and School learning the plumbing, heating, and air conditioning trade. He was drafted into the Army during his Senior year and after basic training her served in the Philippines until the end of WWII. On November 25, 1948, he married Iona "Darlene" Boyce in Herington, Kansas and was together for 73 years until her passing on May 27, 2022. To this union two sons were born, Mark and Howard. After the war he worked for Western Electric and various telephone companies until he relocated his family to Syracuse, Kansas where he installed much of the original telephone service lines and equipment in the area. Later on he worked for Pascal P. Paddock Swimming Pools before opening his own plumbing, heating, and air conditioning business in Syracuse. He later worked in the natural gas fields installing salt water lines, electric lines and various other services.
It was said by many that if there was some sort of a part you needed for something you had better go ask Darrell because he probably had it and a lot of the time he did. He enjoyed going to auctions and was well known to auctioneers all over the country. One of his biggest joys was collecting old car parts, mostly Model A, and other collectors would come from all over to ask him questions because his knowledge of the Model A was vast and he could generally answer their questions. He enjoyed living in Syracuse and resided there until his passing.
He loved to read western books and had pretty much read every western in the local library. He also enjoyed spending time with his grand kids, great grand kids and family.
He was preceded in death by his father - Oscar Markley, his mother - Nellie (Richards) Markley, four brothers - Richard Markley, Donald Markley, William "Bill" Markley, Randall Markley, four brothers - Bonnie Taylor, Betty Wick, Gladys Garrigues, Margaret Whitley
He is survived by two sons - Mark (& wife Delite) Markley of Chesapeake, VA, Howard (& wife Karen) Markley of Syracuse, KS, four Grandchildren -Alisha Woods, Andrew Markley, Mark "Adam" Markley & Amber Raiford, Eight Great Grandchildren: Sabrina Smith, Rayne & Jensen Markley,, Ivale & McCarter Raiford, Mark "Henry", Xavier, & Johnathan "Reed" Markley. And numerous family members & friends.
Graveside Services will be held on Saturday, August 13, 2022 at 10:00 AM (MDT) at the Syracuse Cemetery in, Syracuse, KS.
There will be No Visitation.
In Lieu of Flowers memorial contributions may be payable to Hamilton County Library, (for the purchase of large print books) and sent in care of Fellers Funeral Home LLC, P.O. Box 1253, 401 N. Sumner, Syracuse, KS 67878. 620-384-5100.