Dorothy Jean (Bules) Leslie Reed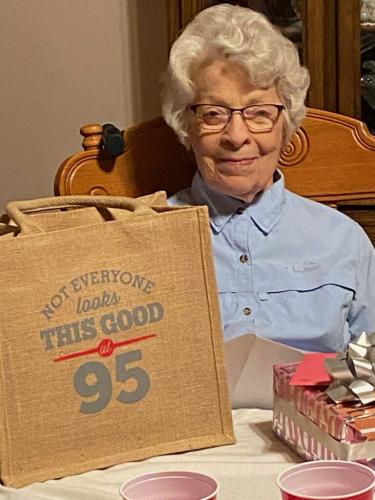 Dorothy Jean (Bules) Leslie Reed, 95, passed away Wednesday, November 15, 2023 at the Hamilton County Hospital in Syracuse, Kansas. She was born November 25, 1927 in Gentry, Arkansas the daughter of Grover Bules & Devona (Huser) Bules.
Dorothy began her life in Gentry, and at the age of three months old she moved to Coolidge to live with her grandparents on the farm north of Coolidge. She lived in Coolidge until her junior year of high school and moved to Syracuse where she attended Syracuse High School and graduated in 1946. On September 21, 1946, she married Marion Russel Leslie in Columbus, Kansas. To this union three children were born, Renee, Kirk, and Rhonda. In 1958, she began working at Phillip Petroleum as a bookkeeper. In 1967, she continued her bookkeeping and began working at Cross Motor Company. In 1969 she started working for Cecil Petterson, M.D. as an Office Coordinator until 1989 when she decided to retire. After Marion passed away she met and married Eldon Reed in 1993. She gained two step-children, Eldon Reed and Sondra Huser. She enjoyed living in Syracuse and being close to family and resided there until her passing.
Dorothy was a member of the Medical Assistants through the 80's. She loved watching her children, grandchildren and great grandchildren play sports, she had a talent for beautiful hand embroidery work, tending to her flower gardens, and her many cats, but most of all she enjoyed spending time with her family, grandkids, and friends.
Dorothy is preceded in death by her father Grover Bules, her mother Devona (Huser) Bules, her first husband, Marion Russel Leslie, her second husband Eldon Reed, her daughter Renee Coleman, her half-brother William Luster, and her sister Gladys Martin.
Dorothy is survived by her son, Kirk Leslie of Syracuse, KS; her daughter Rhonda Haslett of Syracuse, KS; her five grandchildren - Amy Welch, Matt Haslett, Lisa McCarty, Erik Leslie, and Cole Leslie; Five Great Grandchildren: Taylor & Paige Haslett, Maddie & Ellie McCarty, and Carter Leslie; Seven Step Grandchildren: Cody, Justin, Tanner, Todd, Lori, Tish, Lei Ann.
And numerous family & friends.
Funeral Services will be held on Monday, November 20, 2023 at 10:00 AM (MDT) at the First United Methodist Church in, Syracuse, KS. Interment will follow in the Syracuse Cemetery, Syracuse.
Visitation will be held on Sunday, November 19, 2023 from 2:00 - 4:00 PM (MST) at Fellers Funeral Home LLC, in Syracuse, KS,
Memorial contributions may be payable to Syracuse VFW 7306 and may be sent in care of Fellers Funeral Home LLC, P.O. Box 1253, Syracuse, KS 67878. 620-384-5100.