Dorothy Marie Seufer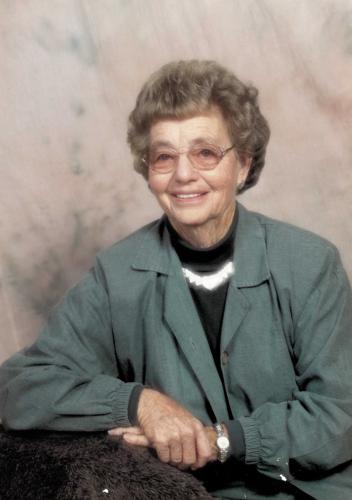 DOROTHY MARIE SEUFER (Age 97) July 25, 1924 –December 8, 2021
Mass of the Christian Burial for life-long Holly, Colorado resident Dorothy (Leonard) Seufer, age 97, was held at 10:00 a.m., December 14, 2021 at St. Frances of Rome Catholic Church in Holly. Interment followed in the Holly Cemetery. Visitation was held on December 13, 2021 at Valley Memorial Funeral Chapel in Holly from 2:00 p.m. until 6:00 p.m. with Rosary beginning at 6:00 p.m.
Dorothy departed this life on December 8, 2021, to be with her Lord and our Savior. After nearly a hundred years gracing us with her smile and joyful spirit, Dorothy is now reunited with her husband, Jewell and surrounded with her parents, brother, sisters, aunts, uncles and many family and friends.
Dorothy was born on July 25, 1924 in Holly, Colorado to Irish immigrants, Clem and Laura Leonard. Dorothy attended and graduated from Holly school in 1943. During WWII, Dorothy, along with her mother, Laura and sister Margie worked at Heckenthorn (hardware manufacturing company which was converted to making 20mm projectiles and 4.2 inch chemical mortar fuses) in Denver. Dorothy and her sister, Margie earned the WWII Victory Medal in February 2007.
Following Jewell Gene Seufer's overseas tour in the U.S. Navy, Jewell and Dorothy united in marriage on January 5, 1945 in Syracuse, Kansas. Together they lived in Sun Valley, Idaho until Jewell was honorably discharged in October of 1945. They returned to Bristol and Holly to farm, ranch and raise their family.
Dorothy was secretary of the Amity Mutual Irrigation Company in Holly from 1975 through 1988. Dorothy was active in her community with St. Frances of Rome Catholic Church, Christian Mothers, and taught Catechism; Holly Gateway Downs as a cashier; Holly Saddle Club member, Holly Community CorporationBoard 1990-2004; and Southeastern Colorado Co-op. Dorothy was honored with the Holly Sports Booster of the Year 1995-96.
In October of 2008, Dorothy was awarded Colorado Master Farm Homemaker (from Colorado's Master Farm Homemaker's Guild) for her leadership and community service, dedication to family and contributions to production agriculture. Dorothy was known to never miss a grandkid or great grandkid's sporting event, 4-H horse or livestock event, and eventually wore out four pickups during the years making it to all those activities.
In September 2018 and 2019, Dorothy and family were recognized by the Colorado State Centennial Farm or Ranch program for keeping land in the family 100 years (Homestead: Christopher Seufer, 1918, and Elizabeth Borelli, 1919).
Dorothy is survived by her children, three sons, Donald and wife Suzanne Seufer, Dale and wife Denice Seufer of Holly, and Greg and wife Angie Seufer of Enterprise, Oregon; two daughters, Delaine and husband Randy Dunning of Granada, Colorado and Jo Lynne and husband Shawn Mimnaugh of Liberty Lake, Washington; eight grandchildren and twelve great grandchildren. Dorothy is also survived by her sister, Katherine and husband Frank Gerlits of Denver, brother-in-law, Jerry Seybert of Holly and numerous nieces and nephews.
Dorothy was preceded in death by her husband, Jewell Seufer, February 1990 and sisters, Bobbie Householder, November 1992; Millie Seybert, May 2010; Margie Smith, November 2012; and brother Ed Leonard, March 2009.
Those desiring to make memorial contributions may do so to either St. Frances of Rome Catholic Church, PO Box 130, Holly, CO 81047; or Holly Community Corporation, 27289 Hwy 89, Holly, CO 81047. To leave online condolences please visit www.valleymemorialfc.com.