Juliana Zwaantina Houtsma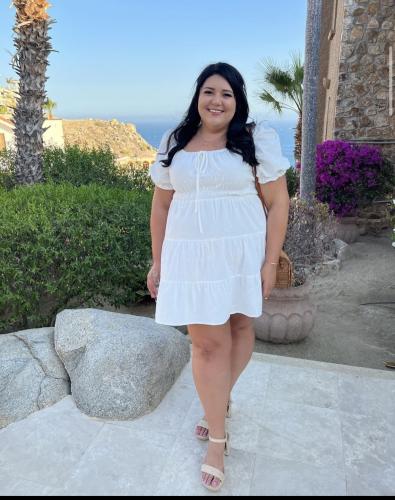 Juliana Zwaantina Houtsma, age 31, passed away unexpectedly on May 22nd, 2023 at home in Syracuse, Kansas. The eldest daughter of Algene Jay Houtsma and Johnna Harvill, she was born on September 21st, 1991 in Redlands, California.
Juliana spent her early years in Syracuse, Kansas before returning to Southern California to graduate with honors from Tesoro High School. After high school, she attended San Diego State University where she made the most of her college experience along with a group of lifelong friends. It was there that she began developing her love of travel and spent a semester traveling the world while based in Barcelona. She graduated in 2015 with a bachelor's degree in Business Administration, a specialization in Integrated Marketing Communications and a minor in Spanish.
After graduation, Juliana spent a summer in Washington D.C. in a public policy internship with the National Council of Farmer Cooperatives. This agricultural based job coupled with summers on the dairy farm during college slowly convinced her of the unassuming beauty and advantages of a humble existence in western Kansas. In 2015, she moved back to work for Syracuse Dairy, LLC, the company started by her father in 1994 and an organization of which she was extremely proud. She started at the bottom, feeding cows at 3:00am, working in the maternity barn, completing reports after her ten-hour shifts and earning the respect of both her peers and supervisors. She eventually transitioned into bookkeeping and became an integral part of S-D Feeders as CFO. She was a joy to work with and unmatched as an employee.
Although she was excited to return to Kansas to become part of Syracuse Dairy, it was the lure of family that ultimately brought her back. While she was content to be a dog mom to Miley and Sheldon, two dogs whom she rescued and loved like children, she was besotted with all of the children in her life. Her baby brothers were the impetus for her move back to Syracuse and Nic rounded out her circle when he returned. She was a role model and second mother for them and they couldn't be prouder of her accomplishments and the person she became in her 31 short years.
While her family and friends are shocked by her death, they are thankful for her life. Juliana was an independent, outspoken and empathetic person. She had the confidence and compassion to stand up for those in need and to go against the grain when necessary. Her brilliant smile, sense of humor and intelligence made her everyone's friend and brought a positive and fun energy to every situation. Still, she was a quiet soul who relished the simple pleasures of life. She loved puzzles, reading, cooking, good food, good wine, travel, hunting, her dogs, and above all, her family and friends. The love, support and encouragement she provided to those around her will ensure her memory and legacy live on forever through them.
Juliana is survived by her mother, Johnna Harvill of Anchorage, Alaska; her father, Jay and wife Meghan Houtsma; three brothers, Nicolaas and wife Luly, Alexander and Ethan Houtsma all of Syracuse, Kansas; grandparents John and Barbara Harvill of Cordova, Alaska; and many loving aunts, uncles, cousins and friends.
Condolences may be sent to fellersfh@yahoo.com. In lieu of flowers, memorial contributions may be payable to The Artevel Foundation and sent in care of Fellers Funeral Home & Monuments, LLC, P.O. Box 1253, 401 N. Sumner, Syracuse, KS 67878. (620) 384-5100. The Artevel Foundation is a charitable (501c3) organization that was founded by Juliana's great-grandparents to promote Christian outreach and education.
Graveside Memorial Service will be held on Tuesday, May 30th at 10:00am (MDT) at the Syracuse Cemetery in Syracuse, Kansas.