Marjorie L. Nairn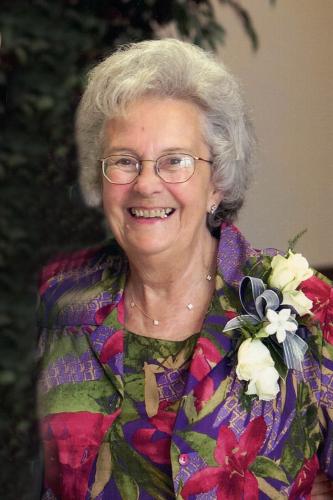 Marjorie L. Nairn, age 90 of Johnson, Kansas, died Saturday, May 6, 2023, at Stanton County Hospital, Johnson, Kansas. She was born August 10, 1932, in Dighton, Kansas, the daughter of Royce O. and Ida M. (Long) Wells.
Marge grew up and graduated high school in Syracuse, Kansas. Shortly thereafter she married Archie L. Nairn in Raton, New Mexico, on April 7, 1950. While raising her family she worked as a Nurse's Aide at the Hamilton County Hospital, usually working the night shift. She moved to Johnson, Kansas, in 1972 and spent the next 20 plus years overseeing all of the bookkeeping for the family entities that included Golden Rule, L&N Pump and L&N Engine. Archie and Marge enjoyed traveling and spending time in Woodland Park, Colorado, and Green Valley, Arizona. She enjoyed cooking for her family, was an avid reader and was very blessed to be a grandmother, great-grandmother and great-great grandmother.
Survivors include her six children, Ward L. Nairn and wife Rickie of Johnson, Kansas, Cindy Ochs of Syracuse, Kansas, Debra Stocking of Syracuse, Kansas, Jana Brady and husband Bob of Johnson, Kansas, Krista Nairn of Johnson, Kansas, and Wade Nairn of Manter, Kansas; two sisters, Donna Rae Gentry of Brighton, Colorado, and Sara Mae Wells of Meridian, Idaho;15 grandchildren, 35 great-grandchildren, and two great-great grandchildren.
Marjorie is preceded in death by her parents, husband, Archie; two sons-in-law, Clifford Schweizer and Jerry Stocking; and one great-grandson, Jordan Brady.
Funeral service will be held Tuesday, May 9, 2023, at 10:00 A.M. (CST) at Fields Memorial Wesleyan Church in Johnson, Kansas, with Reverend Kurt Rovenstine officiating. Burial will follow at the Stanton County Cemetery, Johnson, Kansas. Visitation will be Monday, May 8, 2023, from 2:00 pm until 8:00 pm at Garnand Funeral Home, Johnson, Kansas. Family requests memorials be given to the Valley Hope Treatment Center or to the donor's choice in care of Garnand Funeral Home, PO Box 715, Johnson, Kansas 67855. Condolences may be posted at garnandfuneralhomes.com.