Patricia "Pat" (Kunze) Salter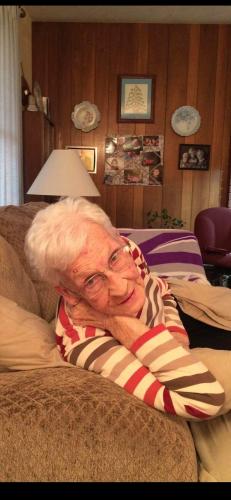 Patricia "Pat" (Kunze) Salter, 90, died on Friday, October 29, 2021 at Hamilton County Hospital in Syracuse, Kansas. She was born on June 20, 1931 in Tulsa, Oklahoma to Arthur Carl Kunze and Lula Agnes (Kelley) Kunze.
She married Bobby "Bob" Gene Salter on August 3, 1950 in Garden City, Kansas.
Pat received her early education at Lutheran Grade School and then Emporia Grade School, before graduating from Garden City High School in 1949.
But it was her senior Chemistry class where she met Bob and they felt the "chemistry." They began dating. Soon Bob went into the United States Air Force. When he returned home, he was often in the field with his father and always helped with harvest. So, in 1958, she and her husband, Bob, moved to Syracuse. They raised their children Alan and Patrice in their Syracuse home they built in 1962. Pat made harvest meals for over 50 years. And the family smiles remembering how the world could come to an end but Pat would still get her hair done weekly.
She and Bob went on cruises and visited family often. Pat and Bob had a fairytale love story. When Pat and Bob were together, they were inseparable, often found holding hands at the library, the county fair, and more. Of course they often had good laughs too. She also loved to shop. Pat would tell Shylah not to tell her granddad she bought this or that.
Pat never knew a stranger. When Naya Asebedo moved to town, Pat and her became great friends. They sewed together, laughed together, and traveled together. Their children and grandchildren were like family to each other. While Pat was a mother to two, she was Grandma Pat to half the town.
Pat was crafty - painting China Dolls and more. But she was most known for sewing. She sewed her husband's suit, her granddaughter's pageant dress, and helped teach many children in 4-H how to sew. She often brought them into her home to teach them as well. She even sewed the cheerleaders' uniforms. She was patient but also a perfectionist and could find the one bad stitch in 1,000. But she wouldn't fix it for you; she would simply show you how. Just a few years ago, Pat's eyesight deteriorated and she could no longer sew. This hit Pat hard.
Pat was a member of the First Presbyterian Church of Syracuse where she served as an Elder, taught Sunday school, and played in the Bell Choir. She was also a member of Eastern Star, Kansas Farm Bureau, Southwest Kansas Quilters Club. Pat was formerly the president of Kansas China Painters, and was the Mother Advisor for Rainbow for Girls.
Pat was very involved in Hamilton County 4-H where she served over 30 years in different capacities. She was the sewing leader, served on the Executive Committee for K-State Research and Extension. She was the Hamilton County Fair Superintendent for sewing, quilting, and china painting. Pat was a loving wife, mother, grandmother and great grandmother who loved her family. Pat enjoyed cooking, sewing, china painting, and spending as much time with family and friends as possible.
Pat and Bob were married 71 years on August 3, 2021.
She is preceded in death by her parents, Arthur Cal Kunze and Lula Agnes (Kelley) Kunze, children Alan Salter and Patrice Vagher, and her brother - Herman Kunze and Sister - Dorothy Austin.
She is survived by her husband - Bob Salter, Sister - Margaret Freeman of Oklahoma City, Oklahoma; Granddaughter - Shylah Booker, and fiancé Shane Hoover, of Syracuse, Kansas; Three Great Grandchildren - Kanyon Vagher Branham and wife, Kayla Branham, Alize Vagher and Ki Vagher-Salter; Daughter-in-law, Joyce Salter, and Son-in-law, John Vagher.
Viewing will be held Tuesday, November 2, 2021 from 11 am to 7 pm MDT at Garnand Funeral Home in Lakin, Kansas. Funeral services will be held on Wednesday, November 3, 2021 at 10 am MDT at the First Presbyterian Church in Syracuse, Kansas with Reverend Ardeen Webster officiating. Burial will follow at the Syracuse Cemetery. In lieu of flowers, memorials to the Hamilton County 4-H sewing project and to the First Presbyterian Church of Syracuse, in care of Garnand Funeral Home, 412 North 7th Street, Garden City, KS, 67846. Condolences may be posted at www.garnandfuneralhome.com.garnandfuneralhome.com