Robert Eugene Grissom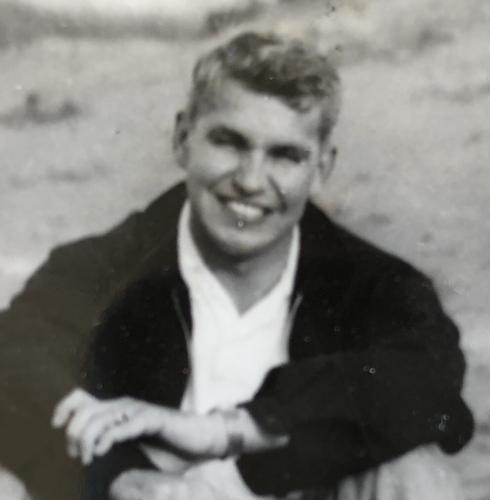 Robert Eugene Grissom was born in Syracuse, Kansas to Dr. Calton Barney Grissom, Sr. and Lenna Deppen Grissom on May 12, 1927. He was the youngest of three sons, his brothers were Calton Grissom, Jr. and William Grissom. He was a child of the Depression and the Dust Bowl, often telling stories of running home when the dust clouds grew on the horizon and collecting arrowheads and dinosaur bezoars where the winds had blown the soil away. He had fond memories of growing up in Syracuse alongside his brothers, his cousins Pat, Garth, and Grady, and many lifelong close friends. Although he left Syracuse for the Navy in 1945, he subscribed to the Syracuse Journal, his hometown newspaper, for seventy seven years, until his death on May 7, 2021.
At age 16 he went to Eureka, California with his friend Bob Marsh and family and spent the summer building a jetty. At age 17, as soon as he was able, he joined the Navy in the final year of WWII. Bob and his entire high school basketball team enlisted together. While serving on the USS Trenton, becoming tired of scraping paint off the hull, Bob used his typing skills to secure a position keeping the ship's daily log. This position also came with a private bunk in the ship's office. Later he became a yeoman for the USS Nashville. He was the last seaman to leave the USS Nashville at the end of the war. He went through the Panama Canal, something he was able to do again many years later.
After leaving the Navy at the end of WWII, Bob attended the University of Kansas on the GI Bill, earning a degree in Business Administration. His first job out of college was with William Volker and Company, which took him to Portland, Oregon. He lived at a rooming house with a group of young men who would become his lifelong friends.
One Sunday with this group of gentlemen led to his meeting Sybil Kirkpatrick. They were married seven months later and remained married for 67 years. In 1956 they moved to Garden Home, where they raised their three children, Carolyn, Tom, and Doug.
In 1970 Bob and his friend of 20 years, Bill Pendarvis, opened a Hickory Farms store in Valley River Center in Eugene. They expanded their business with each new mall opening in Oregon and Southwest Washington. Life at this time was full of gift packs, beef stick, and cheese balls. He valued the friendship, intelligence, and loyalty of those with whom he worked, especially Jan Antorietto.
Bob lived by the motto "If you act enthusiastic, then you'll be enthusiastic", something his children didn't appreciate until much later in life. He was a positive thinker, always believing that with a good attitude and hard work anything was possible. He lived with gratitude for each day. One of his favorite gifts was a jar full of slips of paper, each with a memory written by a child or grandchild. Every evening he and Sybil would pick a memory and say a prayer of gratitude and blessing for each family member.
Bob had a remarkable ability to remember every person he met, their name, and something special about them. He could meet almost anyone and somehow come up with a way they were connected, either through common friends or common experience. He was a true gentleman, treating everyone with respect and kind consideration.
Bob had lifelong love of sports and competition. In high school he played football and basketball. As an adult he skied, played handball and racquetball, and followed college and professional sports, especially KU, The Portland Trailblazers, and his grandchildren's sports teams. He also enjoyed fishing and camping with his family and friends.Bob is survived by his partner of 67 years, Sybil, his three children Carolyn (John) Hostetler, Tom Grissom, and Doug Grissom, and his grandchildren Jacob and Claire Hostetler, Lucy and Grady Grissom, and Thomas and Sam Grissom. He was preceded in death by his parents, his brothers, his cousins, numerous friends, and his dear grandchildren, Jake and Libby.