Rose Marie (Jellison) Vana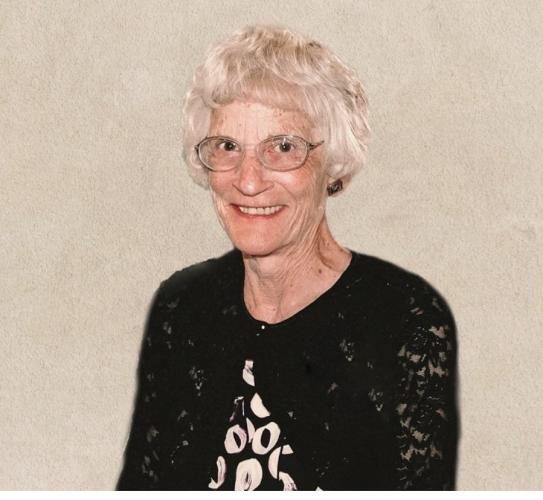 A celebration of a life well lived and so deeply loved for Rose Marie Vana, will be held on Saturday, March 11, 2023 at 2:00 PM at Valley Memorial Funeral Chapel in Holly, CO. Pastor Mike Lewis will officiate. Rose's final resting place will be in Walsenburg, CO with her beloved twin sister.
Longtime Holly resident, Rose Marie (Jellison) Vana was born in Boulder, CO on January 11, 1934 along with her twin sister, Betty Jane to Sumner William and Rosa Angeline (Lorenzo) Jellison. Rose Marie gained her angel wings in the early morning hours of February 22, 2023 at home, surrounded by her loving family, at the age of 89.
Rose Marie and Betty Jane grew up in Walsenburg, CO. A few of her favorite memories were Sunday church with their grandparents, who taught them many Sunday school songs and hymns that she loved dearly and carried throughout her life, including "Jesus Loves Me" and "In The Garden". They attended Hill School in Walsenburg through 4th grade. When they were 7 years old, their father's appendix ruptured one year prior to the discovery of Penicillin. After his death in 1941, the twins attended Mount St. Gertrude Academy in Boulder, CO from 5th to 12th grades, graduating in 1951. They were especially proud of graduating with Eileen Brennan who went on to become a famous actress. Their favorite teacher was Sister Mary Thomasette who remained Rose's lifelong friend. In 1946, Rosa Jellison married Joel Chambers, the twins' beloved Poppy until his death in July 1980. Rose and Betty attended Pharmacy School at Creighton University in Omaha, NE, graduating in 1955.
On August 27, 1955 in a double ceremony alongside her twin sister, Rose was united in marriage to Miles A. Vana, Jr. of Westchester, IL. In 1956 they purchased L-M Drug Store in Holly, CO. In 1972, she went to work at Corner Pharmacy in Lamar. After they closed, she then worked at Gibson's Pharmacy until 1993 when she came home to run the family pharmacy until it's closing in 2006. Rose then worked at Safeway Pharmacy until her retirement in 2014.
Rose served Holly and the surrounding communities for over 60 years as a pharmacist, helping everyone she could. She was a good and faithful servant and loved the Lord, always leading by example. She was immersed into Christian Baptism on April 14, 1999. We will always remember her being the most selfless person, making sure everyone was cared for before herself. Rose's greatest advice to us has always been to love one another and not to hold grudges, both of which she lived throughout her life.
Rose's greatest joy and blessings were showering her kids, grandkids, and greats with more love than humanly possible. She took pride in having everyone over for Sunday family dinner. Other favorite things included babies, animals, Christian Mothers, and playing bridge weekly with her girls. From the time her children were young, Rose and her friends went to coffee each morning at each other's homes with these friendships continuing until they became known as the Golden Girls in the later years. Gardening, mowing, endless hours clipping the grass with scissors, and beautifying her meticulously groomed rose gardens brought her so much peace in her happy place. Some of her most joyful moments were faithfully feeding her birdies and dovies, a love she's forged across the generations as her whole backyard comes alive at feeding time which she was always sure to share with everyone that came to her home, including her hospice care team until the very end, and most recently, spending evenings with Park, Lori, and Coco watching sports and game shows while holding her most special Kitty on her lap.
Rose is survived by her four children, Mark (Cheri) Vana of Grand Junction, CO, Lori (Park) Schweitzer of Holly, CO, Jodi (Dave) Allgood of Grand Junction, CO, and Lisa (Mike) Lewis of Danville, KY; six grandsons, Josh Holland, Kellen (Abby) Schweitzer, Shawon Vana, Josh (Nicole) Lewis, Jeremy Lewis, and Clay (Bruna) Kame; ten granddaughters, Jennifer (Michael) Caddick, Cera (Zach) MacIntosh, Aubrey (Jared) Michaels, Jamie Johnson, Maddilyn (Riar Geer) Vana, Alyssa (Stetson) Rushton, Becky (Jason) Broughten, Lindsay (Brandon) Waymire, Erin (Chris Jacobs) Kame, and Amy (Robbie) Beyer; 26 great grandchildren, Kynlee, Miles, Delani, Blake, Everly, Deacon, Cason, Boston, Hudson, Grady, Calvin, Aron, Dalton, Autum, Alaina, Mia, Coen, Maddie, Paxton, Hudson, Kaydence, Peyton, Barrett, Kaius, Maxwell, and Mylie; special twin sister, Betty (Maurice) Brau; two nephews, two nieces, one grandnephew, two grandnieces, two great grandnieces, and one great grandnephew.
Rose was preceded in death by her parents, Sumner Jellison, Rosa and Joel Chambers; and nephew, Brian Brau.
Memorial contributions may be made to Lamar Area Hospice in care of Valley Memorial Funeral Chapel, P.O. Box 950, Lamar, CO 81052. To leave online condolences, please visit valleyfuneralcremation.com.