Roy Alvin Newman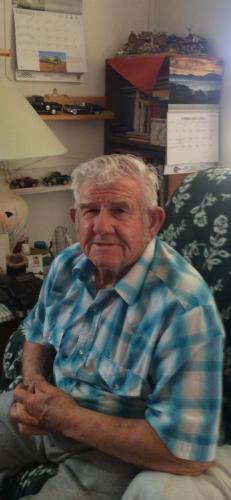 Roy Alvin Newman, 87, of Syracuse, Kansas passed away peacefully, surrounded by his family, on Sunday, December 3, 2022 at the Hamilton County Long Term Care. He was born on June 29, 1935 to Phyllis Elizabeth (Provo) and Fred Alvin Newman in Madison, Kansas. He married Betty Jean (Powell) on November 1, 1953 in Lamar, Colorado. Together they built a life and raised their family in Lamar and FairPlay, Colorado, moving to Syracuse in 1969. Betty passed away in 1994. Roy married Charlotte Lucille (Walker) on May 3, 2002.
Roy worked for the Hamilton County Road Department from 1969 until he retired. He found pleasure in his garden growing fruits and vegetables and repaired small engines. He volunteered in his community delivering meals for the VIP Senior Center. Roy found enjoyment simply cruising around town and attending his grandchildren's ballgames.
Roy was a member of the First Christian Church of Syracuse, Kansas.
He is survived by his wife Charlotte Newman of Syracuse, KS; children, Don Newman and wife Teresa of Colorado Springs, CO, Brenda Newman of Beloit, KS, Roger Newman and wife Sharon of Syracuse, KS, Richard Newman of Strawberry Point, IA, and Diana Peralta and husband Eric of Sacramento, Ca; 19 grandchildren; 38 great-grandchildren; and five great-great-grandchildren; brother, George Newman of Mesa, AZ; and many nieces and nephews.
He is preceded in death by his wife Betty Newman; daughter, Paula Rodenburgh; grandsons, Jason Newman, and Christopher Butler; parents, Fred and Phillis Newman; brother, Josh "Calvin" Newman; and sister, Evelyn Pruett.
There will be no visitation as cremation has taken place. Cremation services entrusted to Weeks Family Funeral Home and Crematory. A Celebration of Life will take place at a later date.
In lieu of flowers, memorial contributions can be made payable to the First Christian Church of Syracuse, or the Christian Church of Lamar, in care of Weeks Family Funeral Home and Crematory, PO Box 1200, Sublette, KS 67877. Condolences may be left at WeeksFamilyFuneralHome.com