Velda Mae Spencer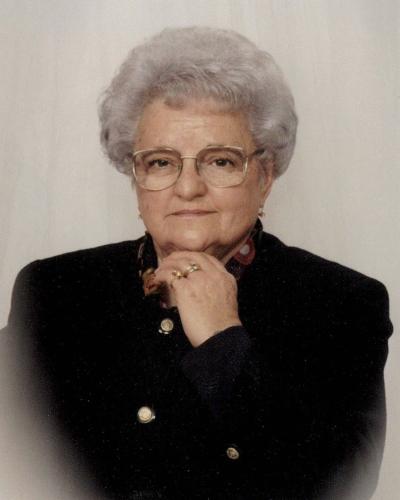 Velda Mae Spencer, 88, died Friday, May 27, 2022, at High Plains Retirement Village Assisted Living in Lakin, Kansas. She was born December 2, 1933, in Pratt County, Kansas, the daughter of Wymer J. & Lotus L. (Blair) Cartwright.
Velda moved with her family North of Kendall, Kansas when she was a young child. She attended Kendall elementary schools and later graduated from Syracuse High School in 1951. On July 21, 1951, she married Robert Jack Spencer in Syracuse, Kansas. They made their home on the family farmstead South of Kendall, where Velda was a loving mother, homemaker, and partner with "Farmer Bob." Velda was a member of the Kendall United Methodist Church, the Meno Women's Group, Syracuse Bowling League, and served on the Kendall School Board. She enjoyed spending her time bowling, China painting, and sewing.
Survivors include three children Kathy & husband Dave Sampselle of Taneytown, Maryland, Tammy Spencer of Colorado Springs, Colorado, and Kyle & wife Karla Spencer of Scott City, Kansas; two grandchildren Dirk & wife Heather Sampselle and Zachary Spencer; and two great grandchildren Macayla and Audrey.
Velda is preceded in death by her husband Robert who died on December 28, 2018. She is also preceded in death by a son Darwin Spencer; three brothers Edward Dean Cartwright, Lowell Cartwright, & Ronnie Cartwright; and a sister Ione Harlow.
A graveside service will be held at 10:30 a.m. Mountain Time, on Tuesday, May 31, 2022, at the Syracuse Cemetery in Syracuse, Kansas with Pastor Larry Alexander officiating. The service may also be viewed on Facebook Live on the Garnand Funeral Home Facebook Page. There will be no calling hours. The family suggests memorials given to the Kendall Alumni or to the Kendall United Methodist Church both in care of the funeral home. Condolences may be given at garnandfuneralhomes.com.
Arrangements by: Garnand Funeral Home, 508 N. Main St., PO Box 91, Lakin, Kansas 67860
620-355-7575