Luebbers Statebound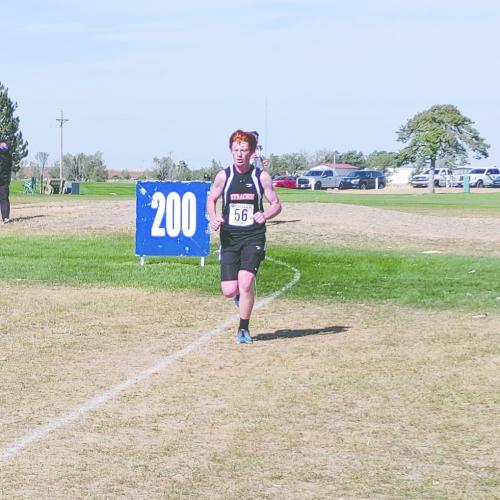 Regional Cross Country was held last Saturday in Johnson. We had a boys team and they performed very well. Jaren Luebbers is our lone participant to go to the State Cross Country meet this Saturday.
"I'm very proud of our whole team for improving at every meet throughout the year, and grateful we've had such great coaches in Coach Schweiterman and Coach McAllister. I wish we would have qualified as a team, but I'm still very proud to represent Syracuse as an individual," said Luebbers.
The day at Johnson was cold and windy but the sun was out. Here are the results of the meet. * denotes a personal best. Thanks to all of you that have supported us this year. They improved immensely over the season and many people from other towns thanked us yesterday for our efforts and improvement since the first of the year.
Varsity Boys - medaled 10 - 10 individuals go to State - 46 participants
Jaren Luebbers - 10th place medal - 19:28.5, Daniel Aguilar - 12th place - 20:04.9, Jesse Cooper - 21st place - 20:45.0 *, Ki Vagher - 23rd place - 21:00.2 *, Michael Davis - 30th place - 21:12.4, Uriel Ibarra - 32nd place - 21:27.6, Emmitt Cooper - 39th place - 22:18.3, Team Scores - 2 teams go to state - 5 teams had at least 5 runners, 1st - Stanton Co. - 27 pts., 2nd - Hutch Trinity - 57 pts., 3rd - Ellinwood - 75 pts., 4th - Syracuse - 83 pts., 5th - Sterling - 116 pts.
Next Saturday Jaren Luebbers competes at State in Victoria at Sand Plum Nature Trail. Time will be 8:30 CT.