Gratitude to Local Veterans
Veterans Day is a holiday which honors everyone who served or is currently serving in the military, regardless of how long or whether they served during war time. Veterans Day was originally called Armistice Day, marking the end of WWl on the eleventh hour on the eleventh day of the eleventh month in 1918.
USD 494 is making it a tradition have over 400 students honor local veterans and give the opportunity to meet and shake the hand of a veteran. Principal Paul Zuzelski, reflecting back on how the event began said, "My dad was a veteran, serving in the Air Force for twenty-seven years, so we thought, why not honor our veterans? So, the administrative team got together and since then it has evolved into one of the best days for our kids."
Veterans, their families, and community members continue to support the celebration and this year may be labeled one of the best so far with 21 veterans in attendance.
The celebration began with the presentation of colors by veterans John Swisher and Rusty Wharton followed by the Pledge of Allegiance and the National Anthem sung by junior high and high school vocal music teacher, Modene Watie.
The fifth and sixth grade students, under the direction of elementary vocal music teacher Alyssa Banning, performed a song entitled "On Veteran's Day".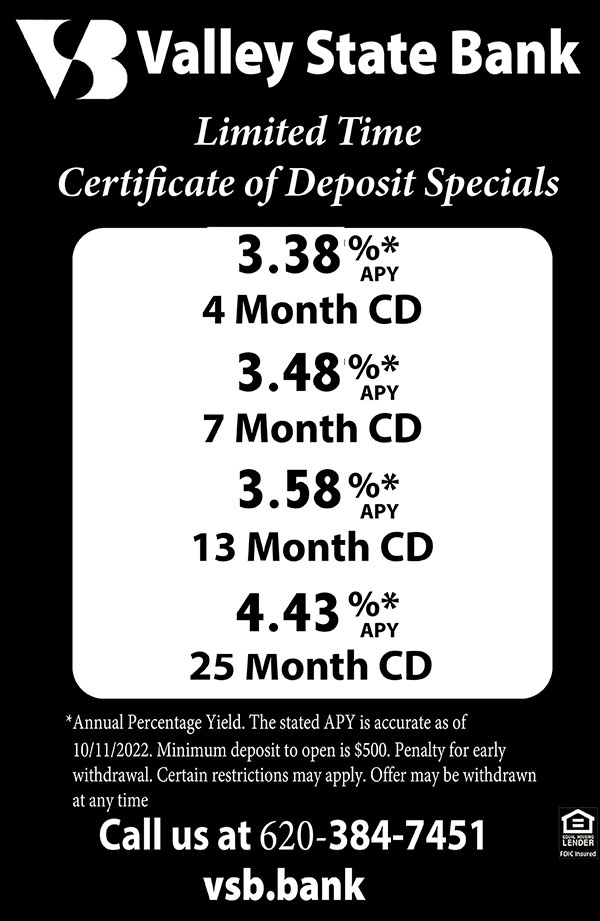 Guest speaker, Captain Kim Zuzelski, U.S. Navy, retired, began by saying, "Very impressive event, hearing the National Anthem is a moving experience for me, reminding me what our ancestors fought to achieve and what our current military fights to support and defend today. Well done, and fifth and sixth grade, that was phenomenal!"
Kim's speech was entitled Honor. "We say that word a lot, but we don't necessarily know what that means. But, as a verb, it means, to regard with great respect, that's what we want to do for our Veterans today, both those who have already served, whether it was one day or thirty years and those who are serving today."
Retired from the Navy in 2022, Kim remembers when she joined her husband, Tom Zuzelski in Syracuse. One of the first people who reached out to her was Mark Davis, who introduced her to the local veterans group. "Our veterans group here has every branch of the military represented, and they are all ordinary people."
"You may or may not know some of the heroes here in your town, some of them are here today. I encourage you to learn something from them, hear about their experiences and lessons learned, and of course, thank them for their service that allows us the freedoms we continue to have today."
She went on to explain how her career in the military began. "I did not have a calling to serve like many veterans. I graduated from college with a degree in nutrition, I needed to get an internship in order to take my exam to be a dietitian, I had a big student loan already, and I had to pay tuition for internship plus pay my own living expenses!"
"I was broke!" said Kim, "I got a navy recruiting card in the mail box, advertising a program that would enable me to finish my training, while receiving health benefits, a salary, and as a payback I had to serve three years as a commissioned officer, but there was one problem!"
She had no intention of leaving her hometown in Colorado and she had been dating a guy, who is now her husband, "Tom was supportive, telling me to do what made the most sense for you, so I signed the paperwork and he proposed a couple months later. We married the day after I completed my internship the following year."
While she planned to serve her three years, her service turned into 29 years. "We had the privilege to travel and live in places all over the country and the world."
She was able to further her education, obtaining two masters degrees, "I also had the opportunity to grow as a person and professionally and develop leadership skills. Repeating a quote from Mark Davis, there's no other job for young men and women that I know of that provides responsibilities and leadership opportunities at such a young age as in any branch of the military."
One of her more memorable assignments was from a historical standpoint, "We were stationed in Hawaii. The USS Arizona was right outside my neighborhood, and we lived in a historic house where people lived when Pearl Harbor was bombed!"
She remembers another assignment to the tropical island of Guam, "I did not even know where it was! I had to get a globe to find it!"
Kim began her Navy career as a dietitian, then became a department head, followed by a director then executive officer, then had her own command. "Being in the position to support the health and readiness of our war fighters is indescribable, particularly in a deployed setting in Afghanistan and during the COVID 19 pandemic," adding "I did not join for pride and service to our country, but I definitely stayed with that as a factor."
Her last position was at the Navy medicines pacific headquarters in California where they over saw Navy's research and development. "Whatever job you can think of, there's likely one of the branches of service that has something in your area of interest."
"It can be challenging at times, but it's a great opportunity and the Navy gave me much more than it took," said Kim.
The program continued with the singing of "America the Beautiful" by Banning, Watie, and Alexa Green followed by the presentation of four Quilts of Valor. The story will be in next week's edition.
The veterans then came to the front of the auditorium, introduced themselves while fourth, fifth and sixth grade students came forward to greet each veteran and presented them with a letter. Marcos Valades' newcomers' students, made flags to give the veterans, greeted each veteran in English followed by junior high, high school, staff, and guests.
Elementary students had the opportunity to honor the veterans as well, greeting the students with smiles and high fives as they walked the lower-level halls while the students waved small American flags and saying thank you.
The celebration did not end that day. Friday, November 11, the annual Veterans Day Dinner at the local Veterans building was held. Introduction of guests and local American Legion Post 27 officers were introduced by Rusty Wharton. The Syracuse Christian Academy students performed two numbers, followed by turkey, dressing, and all the trimmings.
Following the dinner, Melanie Eddy and Jean Bezona were on hand to present six veterans with a quilt of valor, more in next week's issue.
As Captain Zuzelski noted in her speech, how veterans have a comradery once they put on the uniform, local Veterans are taking that comradery to a different level, in an effort to raise money for improvements to the local Veterans Memorial Building.
Implementing "PVT Johnny on the Lawn". While some may be offended by a toilet on their lawn decorated in one of the four branches of the military, some have taken it a different way.
One community member arrived home after a long week to find one of the toilets in the yard, thinking the spouse has acquired a new toilet for an improvement in the basement bathroom, was quick to refuse the paint scheme for the house. But soon learned the meaning of the toilet, decides to load up the family to drive around town, looking for more toilets.
The Rotary flag program adds to the special day with Old Glory flying in homes, put there by Rotarians early in the morning, not to mention many other locals flying the flag.