LOCAL BUSINESS AWARDS
In recent weeks our local businesses have been awarded honors. Boarders Inn & Suites, Wheatland Electric, and Dream First Bank. This online special highlights all three!
BOARDERS INN AND SUITES
Hamilton County can be proud of the numerous selections of overnight accommodations we have to offer. There was a time, not long ago, when travelers had only one choice.
Located on the west edge of town, Boarders Inn & Suites opened in April 2017 after undergoing extensive remodeling, offering 27 beautifully decorated rooms, including two one-bedroom suites and three junior suites.
This is an exciting year for them after recently being recognized as one of the top 10 Guest Experience Award. With over 165 locations, this is exciting and something the whole community can be proud of.
This is the second year they have been recognized in the top ten, the first was in 2019 when they received a 9.70 out of 10 guest experience rating.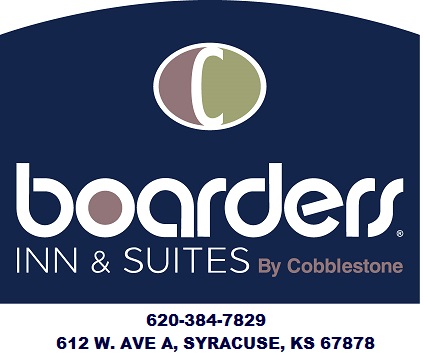 Manager Albani Dowell was unable to attend this year's convention when awards were given out and she was notified via e-mail. "I'm extremely proud of my staff, it takes everybody to get this award. I'm thankful for everyone on my team."
Dowell explained they send surveys to every customer to rate their experience. "Our customers also post review online and those help us out too."
"We strive to make sure our guests' stay is exceptional, doing anything we can such as early check in or late check out and Natasha (Tevelde) mails back forgotten items for free!" said Dowell, "Small town hospitality!"
WHEATLAND ELECTRIC
SCOTT CITY–Wheatland Electric Cooperative, Inc. has been awarded the Apprenticeship Champions and Partners Award by the Kansas Department of Commerce for its nearly 50-year-old apprenticeship training program.
The electric cooperative was selected by state judges from among the following entities, both public and private "that excel providing registered apprenticeship programs in Kansas:" Goodland Tech, Goodwill Industries of Kansas, Hutchinson Community College, Nautical Manufacturing and Fulfillment & Down Syndrome Innovations, The Bradbury Group, and The Dwayne Peaslee Technical Training Center.
"Our apprenticeship program, in place since the 1970s, is a program we are incredibly proud of and one that has powered the lives of lineworkers at our cooperative and the economies of the communities we serve," said Bruce W. Mueller, CEO/general manager. "We are proud of the hard work and dedication that our employees have put in over many decades to earn our program the excellent reputation that it has today."
Since at least the mid-1970s, WEC has successfully administered a formal apprenticeship program to train lineworkers from the ground up—providing classroom instruction on power line safety, construction, and maintenance from qualified veteran lineworkers and coupling that knowledge with real-world experience out in the field.
In addition to the lineman apprenticeship program, the cooperative also provides two additional apprenticeship programs: substation and meter technician.
"Our apprenticeship training program is a team effort," added Rick Klaus, director of operations. "There have been many excellent WEC instructors over the years who have built much of the linework team WEC still employs today. To be recognized for this program is long overdue."
Representatives from Wheatland Electric attended the "To the Stars: Kansas Business Awards" ceremony on Oct. 12, 2023, at the B-29 Doc Hangar, Education and Visitors Center in Wichita to be recognized by state officials and guests and receive the statewide honor.
A record 297 businesses, organizations and individuals were nominated in nine categories for this year. Nominees were reviewed and scored for various criteria such as business expansion, employee recruitment and retention practices, training and educational programs, capital investments, and support of local community events.
"The Kansas economy is booming because of these innovative entrepreneurs," Lieutenant Governor and Secretary of Commerce David Toland said. "When we talk about Kansas being the best state in the nation to live, work and raise a family, we know it is possible because of great companies driving success in their communities. It is an honor to celebrate their achievements."
DREAM FIRST BANK
Dream First Bank, formerly First National Bank of Syracuse, was just named among the top extraordinary community banks in the United States by The Institute for Extraordinary Banking™, winning three categories at this year's Banky Awards event.
This year's award wins included the iconic Banky Award, for its commitment to strong community banking. This recognition is given to top community banks across the country to help people find the best banks in their communities. Second is the Above-and-Beyond Customer Service award for its systems and follow-through that create a consistent level of proven, exemplary customer service for clients. Lastly is the Institute's Thought Leadership award, for extraordinary bank practices, raising the standards of banking practices with excellence in unique and cutting-edge practices while achieving exemplary financial results.
"It is an honor to receive these awards this year, as Dream First continues its mission building on the bank's 100-year history of helping individuals and companies make their dreams a reality," said Dream First Bank President and CEO Chris Floyd. "We pride ourselves in going the extra mile and finding creative solutions to make those dreams happen. The Dream First organization truly appreciated being a part of the Banky Awards this year."
The Extraordinary Banking™ï¸ Awards emphasize the indispensable contribution community banks have on their communities—how deeply woven into the fabric of the community they are. Their role in elevating the national economy is profound yet often misunderstood. Community banks are the beacon that illuminates their local communities and the pillar of small business success.
Roxanne Emmerich, Chair and Founder of The Institute for Extraordinary Banking™ï¸, proclaimed during the awards ceremony, "Community banks recognize aspirations, dreams and silent hopes of small businesses and individuals within their communities. The heart and soul of an extraordinary community bank is the visionary blueprint for the community's success and ability to enact that plan. Those banks were chosen to receive this year's Banky awards."