Stop Trafficking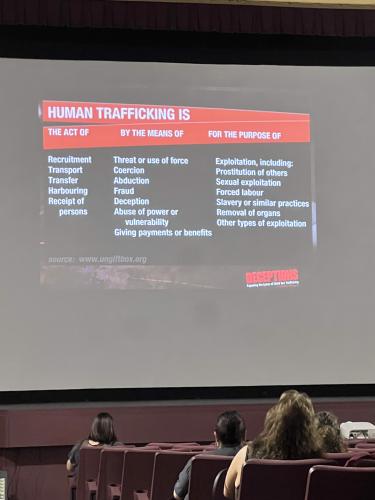 We have all done it. You let your kid use your cellphone while you wait in line at the store, or doctor's office.
You know who else does it? Over 500,000 predators, perverts, and pimps.
Some of them are eighth graders luring your child and others. And if your child is lonely, feels isolated, they are easy prey.
Russ Tuttle goes around the country speaking with children and adults from small, rural towns to large cities. The internet is the equalizer.
While 60 people came to hear Tuttle speak at the Northrup Theatre on Wednesday night, it wasn't enough. Every parent needs to be aware.
Law enforcement can't do very much because most of the time the child shares a nude picture of themselves willingly. Or they leave their house on their own accord. It's up to us.
Snapchat, TikTok, and instagram are the three biggest apps right now that predators, pimps, and perverts use. But ANY app that has private messaging helps them get to your child.
Not my child? Don't be so sure. Young boys playing Fortnite or gaming against a friend are vulnerable. Tuttle shared relatable true stories of kids just like ours who fell prey to these people. It's a billion dollar industry.
A young boy is home gaming with his cousin. The cousin lets a friend in. The friend starts chatting. The cousin hangs up. Pretty soon the boy leaves his home and hides in a ditch for 18 hours waiting for what he thinks is a young girl.
A girl starts messaging a friend. The friend adds in their friend. They chat. He makes her feel good, pretty, special. Soon he is asking her for a picture. Then he is asking for a naked picture. If she doesn't do it right away, he keeps chatting.
Domestic Minor Sex Trafficking happens fast. But sometimes they can be persistent. It can happen in three days or three years.
Tuttle shared the story of a star softball player headed for great things. It was one chat. It was one picture. She left her house to meet a boy. But it wasn't a boy. It was a 21 year old sex trafficker who beat her, raped her. She returned home, she kept playing softball, going to school. But he would sell her often. And he would break her pinkie to remind her to not say a word.
One day she left home for good. She was trafficked and sold for years. When she ran away from the traffickers, they found her. And had her raped by over 30 men in a 24 hour period as punishment.
Can't happen to my kid? Are you sure?
If you missed the presentation, he is in Lakin tonight at Lakin High School, 407 N Campbell St, 6:00 PM Central Time.
Can't be there? There are over 100 apps pimps, predators, and perverts are using to lure your kids. And sometimes they live right in your town.
Share the information with each other. Monitor your child's phone. Be a trusted adult and have trusted adults your child can talk too. Listen to them.
Go to the website https://www.stoptraffickingproject.com Or download the Stop Trafficking app on your phone for up to date resources.