Margaret Jean (Winger) Hook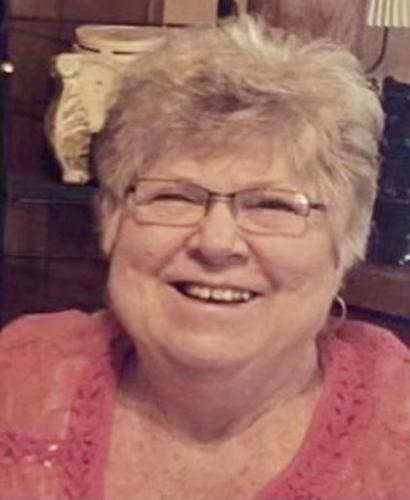 Margaret Jean (Winger) Hook, 75, passed away Wednesday, November 24, 2021 at Overland Park Regional Medical Center in Overland Park, Kansas. She was born May 18, 1946 to Wilma Nancy (Jones) and Frederick Dale Winger in Garden City, Kansas.

Margaret was born into a family of pioneers. Her father's family had come to Stanton County in 1886 from Indiana, and her mother's family came to Stanton County in 1925 with only themselves, a set of horses, wagon, and header barge. Margaret's first years began in a dirt dug out house. Because they had a growing family, Dale started the construction of his farm house in Northern Stanton County. After some time of being sick, Margaret's father was sent off for further medical tests and was found to have cancer. Dale was brought back to his home, tended to by his sister June Peery, and passed away May 4, 1948 at the age of 26. This was a terrible blow. Margaret was only 2 at this time, so her family would take a crucial role in her raising and life.

While growing up, Margaret could be found spending time at her Grandpa and Grandma Bill and Mary Jones' farm south of Big Bow or spending time with her Grandpa and Grandma Charlie and DeEtta Winger at their farm on Bear Creek. Margaret would be a lifelong favorite within the family and would often go on adventures with either of her grandparents. Wilma, Mary, and DeEtta taught Margaret the skills a young girl was expected to know: raising chickens, sewing, canning, and running any errand that may have come up. As Margaret wrote it, "Margaret was a farm girl; she grew up learning to do everything that needed to be done, but she was competent, dependable, and most of all, compassionate."

Margaret started her formative years at Johnson Grade School, and as a youth in Stanton County, she was active in the Stanton County Sunflower 4-H club ( which she credited for her abilities and interests), played clarinet and saxophone in the band, and served as a babysitter for many within the family. Margaret would end up participating in several trips to Rock Springs, and in July 1962, she was sponsored to attend the I.O.O.F. UN Pilgrimage for the Youth to New York. From 1963-1964 Margaret served as a Stanton County Hospital Auxiliary Candy Striper. In 1964 Margaret graduated from Johnson High.

Most who knew Margaret knew her as a nurse. When asked why she wanted to pursue nursing, Margaret said, "I always wanted to be a nurse! It was bound to be!" You see Margaret's grandma Mary Jones was a midwife and was present throughout the area whenever anyone was sick or any new babies came. Margaret's Aunt June was also a very sought after nurse in the area. So after graduation, Margaret enrolled in Grace Hospital School of Nursing in Hutchinson, Kansas. She received many local scholarships to assist her along the way, and received the education of what she called a "Classic" nurse. At Grace Margaret was asked to pick a specialty, but her heart was set to serve in her hometown hospital; she was determined to be able to help in any case that could arise.

Margaret returned to Johnson in 1967, where she began work at the Stanton County Hospital. She purchased a 1967 Chevy Camaro which would soon change her life. Margaret would wind up with damage to the hood of this car from battery acid, and took it to Smith Chevrolet in Ulysses, Kansas. Here she would meet their bodyman Calvin Hook, who would become her soulmate. As Calvin put it, from this day on they couldn't keep her out of the shop, and he couldn't stop making trips to visit her. They would get married November 2nd 1968 in Big Bow, Kansas. Calvin and Margaret made their home in Syracuse, and in 1969 their first son Kevin Gene was born.

On their 2nd Anniversary Margaret assisted Calvin in starting Hook Body Repair at the junction of US 50 and North HWY 27 in Syracuse. Even while being a nurse Margaret assisted Calvin as needed in the shop in the early years of the business. In 1971 Darin Scott was born, and the family soon moved out to the farm and ranch on the River Road south of Syracuse. Margaret and Calvin often take their boys on vacations throughout the Midwest and Western United States as well as a trip to the Kansas State fair like Margaret had done as a child. When old enough to join, Margaret got the 2 boys into 4-H in Syracuse and did her best to support this portion of their lives.

In 1984 Margaret and Calvin had their third son, Deric Jay. Also in that year, Margaret quit the hospital in Johnson and became a school nurse and would substitute as needed for the County Health Office. In 1991 she began to split her nursing time between Stanton and Hamilton county. In 1994, Paige Danae became Margaret's first grandchild. In 1996, Kayla Cheyenne was born, followed by Payden Briann in 1998. In 1998 Margaret became a full time nurse for the Stanton County School District and at the county health office. In 2000, Tyler Scott was born. Throughout her 3 sons' and 4 grandkids' lives Margaret did everything to be a special part of each one of their lives. She was always there with open arms when needed to support each of them to give advice. Even if it was hard to accept at the time, it was the right advice for the situation.

Margaret later had knee and back problems, which brought her to improving her childhood skills of sewing. Finding that she had a knack of creating quilts, she took a keen interest in this. After retirement, she transformed a bedroom into a sewing room where she would spend many hours a day creating works of art in the mediums of fabric and thread. Although hesitant at first, Margaret started entering her works in local fairs and was highly recognized for her talent. Through quilting Margaret made many good friends that she would have throughout the rest of her life; Peggy Bland and Tela Dunn were two that she most often noted.
Margaret was also never one to forget a person and had many friends that she would often go see or call, two highlights being her school friend, Betty Ashida, as well as long time friend and longtime co-worker Marcella McElroy.

Margaret was especially ecstatic when Paige brought Tynslee, Jaxton, and Nolan into her life, making Margaret a great-grandma.

Margaret was a strong woman, whose kind hearted nature will be spoken of for generations. As Calvin put it, she was a ranch hand, veterinarian, his personal nurse, bookkeeper, excellent cook, talented quilter, and an abundance of other things all in one. On November 2nd 2021, she and Calvin had their 53rd anniversary, and in the almost month of being in the hospital, Margaret did her best to keep in touch with family and friends.

Let the memories of Margaret Jean (Winger) Hook be expressed and her legacy of competence, dependability, and sincere compassion live on through everybody she touched.

She is survived by spouse, Calvin Hook of Syracuse, KS; her children, Kevin Hook and wife Pam of Syracuse, KS, and Deric Hook, of Durango, CO; grandchildren Paige (Hook) and husband Tim Wideman of Deerfield, KS, Kayla (Hook) and husband Taylor Jones of Big Bow, KS, Payden Hook of Syracuse, KS, and Tyler Hook of Big Bow, KS; great grandchildren, Nolan, Tynslee, and Jaxton Wideman of Deerfield, KS; sister, Nancy (Winger) Ricker and husband Nelson of Walsh, Colorado; nephew, Mark Ricker and wife Christa of Springfield, CO; niece, Michelle Smith and husband Russ of Osage City, KS; aunt, Helen (Winger) Dale and husband Bill of Protection, KS; dog, Agan; and an abundance of friends.

She is preceded in death by parents, Frederick Dale and Wilma Nancy Winger; son, Darin Hook; nephew, Dale Ricker; aunts, June Glantz, Marie Winger, and Mary Wilkerson; uncles, Tom Winger, Dick Winger, Barney Peery, and Vic Dimmitt.

Cremation has taken place, and details for a memorial service will be announced at a later date.

In lieu of flowers, friends are encouraged to donate to the charity of their choosing in honor of Margaret. Memorials can be mailed to Weeks Family Funeral Home & Crematory, PO Box 1200, Sublette, Ks 67877. Condolences may be left online at WeeksFamilyFuneralHome.com