Verlie Viola (Thompson) Bennett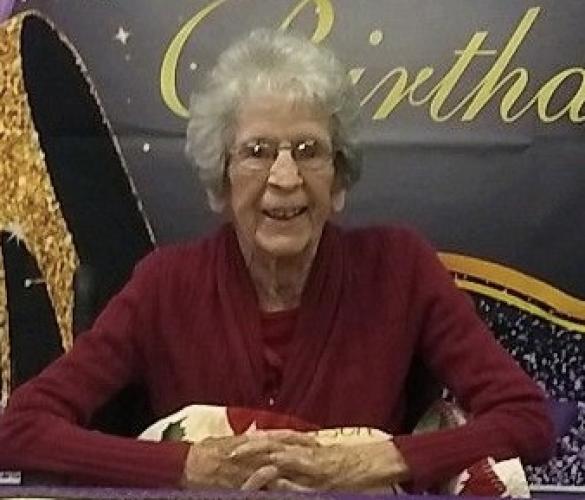 Verlie Viola (Thompson) Bennett was born in Stafford County, Kansas on February 26, 1922 to Fred and Leila (Reece) Thompson. She lived in Stafford County for nineteen years, graduating from Trousdale High in 1940.
Verlie married Ronald Toot in 1940. To this union, six children were born, Corieta, Ronita, Fredra, Kent, Sherri, and Michael. In 1941 Ronald and Verlie moved to Hutchinson, KS and lived there 3 years. They moved back to Stafford County and stayed there through the war years. In 1946 they moved to Barton County, Kansas, where Verlie worked for St. Rose hospital in Great Bend in the lab. In 1951 they moved to Kearny County, KS and then to Garden City, Kansas. Ronald and Verlie divorced and in 1952 Verlie and her children moved to Hamilton County.
Verlie married Melvin Bennett on August 13, 1954. To this union was born one son, Steven. However, if you asked Melvin, Verlie or any of the children, they were a family of nine.
Throughout the years, Verlie worked for Bert Thompson at the Skelly station as a bookkeeper, Ray Davis at Davis Motors, Dr. Lewis as a dental assistant, as a secretary for the County Agent, DeMarteau/Montgomery Insurance Agency, Ward Stanley, and the Soil Conservation Service. Around 1975, Verlie went to work for the hospital in Stanton County as a receptionist/bookkeeper and later moved to the Long Term Care as an assistant to the activities director. Verlie retired in 1995 at the age of 73.
Verlie was always a very active individual and enjoyed playing the piano, doing needle work, horseback riding, and hiking. She was an avid bird watcher and if she could not identify the bird by sight, she had about a dozen books to look it up in. Verlie loved to travel whether it be to visit family or to some historic sight. Verlie loved to read. Her favorite books were ones with some kind of history. She read avidly until the last month of her life even though her sight was failing. She loved to discuss her latest book when someone would visit.
Verlie was a project leader for the Willing Workers 4-H club when her children were young. She loved to dance and she and Melvin were members of the Levis & Lace square dance club. Verlie was a longtime member of the United Methodist Church in Syracuse. She taught Sunday school for several years and was a member of the choir.
Verlie celebrated 100 years of life on February 26, 2022. Over 50 family members gathered with her to celebrate.
Verlie passed away August 13, 2022 at Greeley County Long Term Care in Tribune, Kansas. She was reunited with Melvin to celebrate their anniversary in heaven.
Verlie was preceded in death by her parents, her husband - Melvin, son - Kent Toot, three daughters - Sherri Malleck, Corieta Davis, Ronita Maynard, grandson – Jimmy Harris, granddaughter – Cynthia Lehmann, brothers – Vern, Harold, and Loren Thompson, sisters-in-law – Jean, Lois, and Peggy Thompson, Ruby Hughes, Rose Bennett, brothers-in-law – Dick and Max Bennett, Shobe Hughes, Bob Gilfillan.
She leaves behind quite a legacy including three sons – Fred (Joan) Toot, Mike (Kim) Bennett, Steve (Toni) Bennett, brother-in-law – Chet Bennett, sisters-in-law – Flora Jean Gilfillan and Cheryl Bennett, numerous grandchildren, great grandchildren, great, great grandchildren, and a herd of nephews and nieces.
Funeral Services will be held on Saturday, August 20, 2022 at 10:00 AM (MDT) at the United Methodist Church in, Syracuse, KS. Burial will follow in the Syracuse Cemetery, Syracuse. In Lieu of Flowers memorial contributions may be payable to First United Methodist Church, and sent in care of Fellers Funeral Home LLC, P.O. Box 1253, 401 N. Sumner, Syracuse, KS 67878. 620-384-5100.