1971 SHS GRAD RETIRES FROM NURSING CAREER
1971 SHS graduate, Grace (Boy) Donecker, retired from a 32 year career in nursing, but the path was not a straight one. "I was never going to be a nurse. I hated needles!"
Grace grew up just south of Syracuse where Dave and Jenny Schwieterman live. Gordon and Lois Boy had four children, Terry, Beth, Margo, and the youngest, Grace. Her childhood memories are filled with 4-H.
Grace remembers her parents as sponsors of the Willing Workers 4-H group. Grace said, "While I did cooking, sewing, home improvement, and gardening, my brother did livestock projects. Terry had lambs one year. The mama had three little babies. She died at birth. So I fed the three lambs formula every day. They made it!"
One of her strongest memories was the flood of 1965. They had a milk cow, steers, and pigs. "It was the first time the milk cow got to stay in the garage because everything else was underwater. Eldon and Ernestine (McDaneld) called us about the flood coming. We thought they were full of it. But we moved all the livestock up to the round top near the house. Mom and us girls went to stay with Pete and Phyllis Burns, 19 miles North of Syracuse.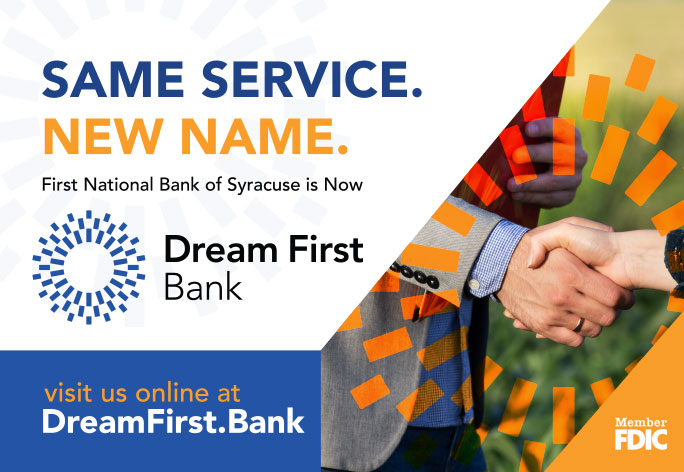 The house never got water in it, and all the animals survived.
Her most vivid memory of that time was after the flood. Everything washed onto our land. Mom would have Beth or Margo drive the truck and we would walk beside it, picking up all the trash and junk, then haul it to the dump. This went on for days and days. That's how we spent our summer! We had to get tetanus shots before we could start picking the stuff up. I remember old model "T's", washers and dryers, dishes. We picked up so much barbed wire and bailing wire.
SHS brought out Grace's ornery side, but not the way you might think. Her mom, Lois, many will recall was a strict teacher. She ran study hall as a tight ship. Grace had an involved surgery for familial polyposis during her freshman year of school. "I had to be out of school for a month or more. I was taking home economics and the girls at school thought my mom would just pass me. Ha! I learned about every single electrolyte and vitamin. I had to study and be tested before I could pass. I didn't want to be in her class. So throughout high school I joined everything I could to get out of it. I was President of home Economics club. I was the yearbook editor, and I think the President of Willing Workers too.
Grace graduated from Syracuse High School in 1971 with Rob Gale, Mike Bennett, Kim Hazelton, Marla Lord, Dennis King, Babette Gould, Teryl Spiker, Mike Akers, Dan Levens, Nina Cook, Sherry Finlay, and more.
She graduated Garden City Community College and headed to K State to become a Home Economics teacher. There were not a lot of choices for women back then and that was a safe choice. When she went to K-State with a lecture hall filled with hundreds of students, she wasn't so sure. "After two semesters I decided this wasn't what I wanted to do. I would wait to finish when I was sure of my path. I came back to live with Margo and got a job at Western State Bank. I didn't make much money then. I went to work for Lewis Hooper and Dick CPA firm as a receptionist. They taught me a lot about accounting."
She met her husband, Dave Donecker, at the Keg. It was a popular place for kids to go and drink a 3:2 beer. We got married and moved to Leoti for a year. Then Dave's company was downsizing.
Her sister Margo said, "Why don't you come back to Garden City?"
At the time, she was pregnant with her first son, Justin.
She worked several years. Then after her daughter, Brecken, was born she quit to stay home. Then came daughter, Brandi. Running a daycare at home was the best idea when their fourth child, Scot, was born.
So how did Grace get into nursing?
Grace and her family have a condition called Familial Adenomatous Polyposis (FAP), an inherited condition that affects the gastrointestinal tract. FAP leads to hundreds or thousands or polyps inside the colon or rectum. If not removed, they can become cancerous. Grace said, "My dad had it, I had it, as well as my sisters, and two of my kids."
When her kids had the same surgery she had that is when the doors to nursing began to open. The distance between the hospital in Denver and Garden City was long. The nurses would give me a cot to sleep next to whichever child was recovering. The nurses saw how I cared for my kids and would comment how Grace would make a great nurse.
"I was teaching Sunday school at the Methodist Church in Garden. Donna Kennedy, the Director of Nursing at GCCC would bug me to go into nursing. I would say that is not my thing.
She challenged me. She said just take anatomy and physiology 1 and I won't bug you anymore. Well, I was hooked after that.
St. Catherine's. Hospital had a scholarship program called the Belles of St. Catherine. Part of the requirement to pay them back was you had to work at St. Catherine. The first year I worked there, 10 to 15 kids had terminal diseases. It flipped me. How could I be so lucky and have healthy kids and these poor parents were losing their children. I needed a change. I went to work for Dr. Meyers at the clinic. Dr. Meyers loved to teach, and that's where I learned to have laughter and fun because you are dealing with so many difficult things. It's where I realized I didn't see all the healthy good kids working on the hospital side."
Next, she went to work for a home health agency.
While she worked throughout her career nursing, teaching, home health, pediatrics has always been Grace's calling. While I was working on my bachelor of nursing through Newman, I quit the clinic and went back to the hospital.
When Dave decided to open a business, Grace decided it was her turn to support him. He had worked as she went through school. Now she could help. He opened Engineered Wood Products which today is known as Engineered Truss Systems (ETSI). She learned about trusses, but all the while kept her foot in the door at the hospital, eventually becoming a house supervisor.
For a few years, I taught clinicals for the college. When they asked her, Grace said, "I am not a teacher, but I loved it. I loved the teaching, helping the students, and cheering them on to higher degrees.
One day she got a call. They were opening the day House Supervisor position and would she want it. In a heartbeat she said "yes."
Nursing has had its ups and downs, but it was exactly where Grace's heart was.
In her first year, a little boy and his brother came in with autoimmune diseases. At that time, there were six or seven documented cases in the US. The boy's name was Justin, he was two years old. They would come monthly to get IV IG infusions that took several hours.
Grace said, "Over two years, we had a connection. We teased each other for fun. One time when I was a PRN, he was receiving his infusion and the nighttime nurse knew something was wrong. She kept calling the doctor, but he didn't believe her. It was only when I came in that next morning when and called the doctor myself that he understood the severity. Justin was flown to Denver immediately. After a month or two, they sent Justin home to let nature take its course. That was very hard to lose him he was so young."
The exciting part of nursing was watching all my former students finishing their degrees and continuing to learn and thrive. I enjoy seeing them going on to finish their Bachelor of Nursing degrees, masters degrees, and a couple are APRNs.
In fact, Leah Haug, the new Director of Nursing at Hamilton County Hospital was a student of mine doing her clinicals, a long time ago.
Nursing has changed though. "When I first started, I spent time with kids and their parents, learning what went on in their situations. And I could have fun with the kids, so they could be kids instead of focusing on the sickness. We did the mixing and verifying of medications and IVs. Now, the pharmacy mixes the medications, there is less chemistry involved.
IVs pediatric patients were on a pump, but adults were gravity. Timing them.
Now everyone is on regulated pumps, and there is less bedside time, more charting, and paperwork. As House Supervisor, I was able to help the nurses and the aides and cheer them on or start an IV for them. I helped build confidence in them."
A reception was held in her honor at the hospital where friends and family gathered to celebrate her achievements.
Dave, Grace's husband said proudly, "In 32 years, I don't remember her calling in sick once. She had surgery for a torn miniscus and went to work the next day."
Now that she has retired, what are Grace's future plans? "Doing what I want when I want to. I want to enjoy my kids, my grandkids, spending time with my family helping with the trusses. I pray that my mind and health stay strong."
Grace's legacy in nursing is only matched by her pride in her children. Grace and Dave's children have all gone on to be strong members of their communities. Justin is the GM of ETSI in Garden City, Brecken is a title one reading teacher and special ed teacher in Olathe, Brandi followed in mom's footsteps. She is an oncology nurse at Wesley Medical Center, and president of the KS Oncology Nurses, and Scot is the Enterprise Architect at Sunflower Electric in Garden City.