New Pastor At Methodist Church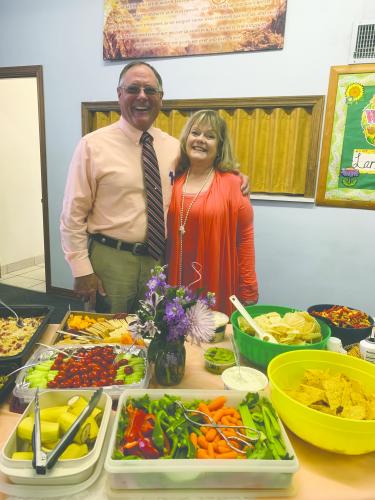 The First United Methodist Churches of Syracuse and Kendall are excited to welcome their new pastor and his wife, Larry and Julia Alexander. Larry's official first Sunday was April 3 in Syracuse, although he has filled the pulpit off and on for a year in the absence of a full-time minister. His first Sunday in Kendall will be May 8.
Larry grew up in a family of eight in Grant County, the oldest son of three boys. "Growing up on the farm, dad taught us hard work, and had me driving a pickup truck at five years of age!"
Larry shares the story of when his mom attended a revival and asked for prayers because she wanted a family but had had three miscarriages. "She promised God, she would give her oldest son to the ministry," he said.
"At the age of 16 or 17, I told my mom I have a call to the ministry, that is when I learned about the story, so my calling went back to before I was born."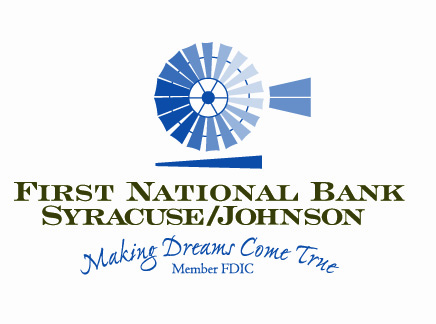 Following high school, he received a scholarship to Warner Southern in Lake Wales FL. through the Church of God, completing his degree in pastoral ministry in Christian education. While in Florida, he went on three mission trips and when he graduated, he felt God called him to train for his masters in Indiana.
He relocated to Anderson, Indiana, pastoring a small church in Daleville, while he worked his way through seminary. The kids at vacation bible school raised money to send him to Bangladesh, "Unbeknownst to me." He accompanied his professor from Florida to India and Bangladesh while writing his masters thesis for agriculture for missions. He also had an opportunity to go to Peru and it was there he learned to speak Spanish.
But Peru was not a place his wife, at the time, wanted to live so after two and a half years, they returned to Indiana, and he worked with youth ministries and an orphanage in Kentucky. "All the while, missions were my heartbeat and pastoring was my calling," he said.
His parents began to wane in their life, "Dad needed someone to help him on the farm near Satanta. sSo I answered the call to come back, helping him until he passed away in 2010." He continued to farm for his mother until she relocated to assisted living. While there, he worked for the Satanta school district in the transportation department and driving a school bus.
"After four or five years of drought and ten-bushel, it does not get you very far, so we decided to sell the worn-out equipment and let a more progressive farmer take over the operation." He then began teaching special education in Garden City, and found he loved to teach, "I love kids and the Hispanic kids taught me better Spanish than what I had learned in Peru. "I had two qualifications for them though, don't teach me bad jokes or cussing!"
He has pastored seven different churches but found he is more fitted for rural agriculture industry people than he is for big cities and his mothers nurse heard him do a funeral and invited him to speak at the Presbyterian Church in Lakin, "That is where I have been until the preaching pool started and I began filling the pulpit in Syracuse."
That is where he met Julia Boone, who is part of the Daniel Boone legacy. Julia grew up in the Carolinas, relocating to Wichita her junior year of college when her father was assigned to a Presbyterian church.
She retired as a school social worker from Wichita public schools in 2017, and attended a Kansas University yearly social workday and workshop with other colleagues. The program matches physicians, dentists, nurse practitioners, therapists or mental health providers throughout rural Kansas. "I submitted a resume and received a call saying Julia, do I have a place for you, it's in Lakin Kansas, helping with a HRSA grant through Kearny County Hospital."
She wondered, where is Lakin, Kansas but she felt a tug to relocate to what the grant called frontier rural American communities. She later began work as a therapist for Compass Behavioral Health.
She was invited to the Presbyterian Church and their friendship began. They laugh about their first date when Larry asked her to help with youth ministry, maybe share some ideas. "I knew it was a date!" said Julia.
The Western Child Advocacy Center was having a fundraiser, Diamonds and Champagne. So Julia decided to call Larry and ask him if she should buy one or two tickets, "And he said two." She later found out he was on top of a irrigation sprinkler and was talking to her with his phone in his mouth. "The rest is history, we started dating," said Julia.
They married March 17, 2020, eloping to LaJunta, Colo. just before the lock down. Between the two of them they have six children, Larry, two boys, one girl and eight grandchildren. Julia has three daughters, seven grandchildren and one on the way.
In their spare time, Larry enjoys working with his hands, "I love to get out build a fence, anything construction wise, and I can grow a killer garden, with God's help and rain," Adding, "Recreation is any number of things, if I can help somebody, that's the best recreation I can get."
Julia loves crafts and sewing but the two enjoy traveling which may be as simple as a trip to Garden City, "Windshield time, alone and visiting," said Larry. I learning a lot through her.
Reflecting back on his first time to Syracuse, "I saw beautiful people and felt the Lord's spirit here. They were warm, caring people.God has put something special here, not that other places do not have it, but there was something drawing me here," said Larry.
What is Larry's vision for his churches? "I don't like to complicate ministry, or leadership. We are here to serve one another, and that's where I'm at. God knows the time and the times we live in, if we are astute and prayerful and, in the word, he will show us what our mission, our calling, and our purpose as the church is all about."
"He's the shepherd. He laid his life down for the church. My goal is to serve him,. There will be inspirations that he will give me but it's not a one man show, it's a body. He will collectively show us his directions," said Larry.
The Alexanders will relocate to Syracuse little by little, "We have a lot of junk to go through," laughed Larry.