The Syracuse Journal Wins 15 KPA Awards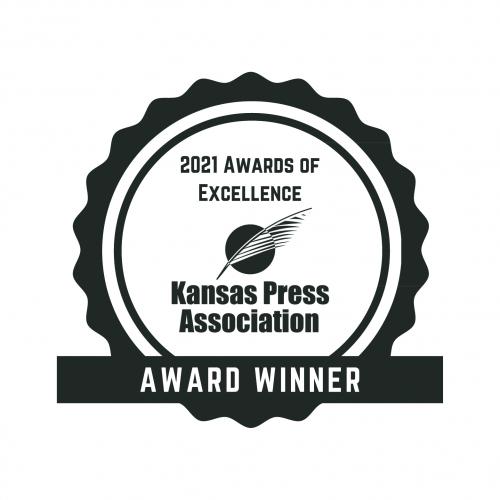 The Syracuse Journal is proud to announce we are now a 2021 Kansas Press Association award winning newspaper. There were 2100 entries across the state. We won 15 AWARDS!! We had five first place awards, four second place awards, and six third place awards.
Krista Norton received first place for her Sports Feature story -Schwieterman Runs Half Marathon, Michele Boy received first place feature story for Fire Engulfs Davis Motors, senior story Betty Edmisson Turns 90, and Best Story/Picture Combination for 2020 Wheat Harvest. Also My View From Main Street, USA won for column writing. Ryan Thompson took third place for his Sports Story Double Overtime Nailbiter.
To me it is a community win! It is because you all will open your hearts to us to share your stories, to allow us to interview you and to help us share the good news and the challenges. I want to say Thank you!!
I also want to give a special thank you to those who help throughout the year – Bethanie Popejoy, Kim Urie, Marcia Ashmore, Denise Keller, Mecia Luebbers, all of you who snap a picture for us to capture a moment, and my family! Also to our advertisers!! We couldn't do this without you!
And the Hutchinson Publishing Co who prints our paper and Dave our delivery guy! And most of all you, our readers! Thank you for your support!!
The full list of awards is below:
Feature Story - First Place Syracuse Journal FIRE ENGULFS DAVIS MOTORS Michele Boy Division I ,Division II
Seniors Story - First Place Syracuse Journal BETTY EDMISSON TURNS 90 Michele Boy Division II
Column Writing - First Place Syracuse Journal My VIEW FROM MAIN STREET, USA Michele Boy Division II
Sports Feature Story - First Place Syracuse Journal SCHWIETERMAN RUNS HALF MARATHON Krista Norton Division I ,Division II
Best Story/Picture Combination - First Place Syracuse Journal 2020 WHEAT HARVEST Michele Boy Division I, Division II
Education Story - Second Place Syracuse Journal A TEACHER TEACHES IN QUARANTINE Krista Norton Division II, Division III

News and Writing Excellence - Second Place Syracuse Journal The Syracuse Journal Michele Boy, Krista Norton Division I, Division II
Special Section - Editorial - Second Place Syracuse Journal 2020 Hamilton County Commemorative Fair Edition Michele Boy All Divisions
Best Newspaper Redesign - Second Place Syracuse Journal The 2020 Syracuse Journal redesign/new owner Michele Boy Division II
Local Business Story - Third Place Syracuse Journal BUSINESS OF THE WEEK: KC's Restaurant Krista Norton Division II
Agricultural Story - Third Place Syracuse Journal FALL CROPS HURT BY HEAT Michele Boy Division II
Sports Story - Third Place Syracuse Journal DOUBLE OVERTIME NAILBITER Ryan Thompson Division I,Division II
Best Story/Picture Combination - Third Place Syracuse Journal SMALL TOWN SUNDAY NIGHT Michele Boy Division II,Division III
Design and Layout Excellence - Third Place Syracuse Journal The Syracuse Journal Design and Layout Michele Boy Division II,Division III
Best Front Page - Third Place Syracuse Journal The Syracuse Journal Front Pages