Theatre Opens To Down East Boys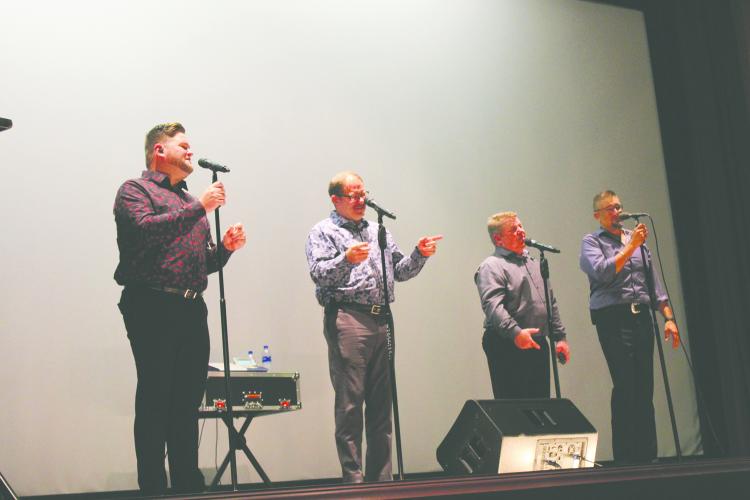 While the Northrup Theatre has been dark since March, it came to life Monday, October 12 with a performance from the Down East Boys gospel music quartet from Reidsville, NC.
With much dusting, mopping, and scrubbing from manager Craig Norton and his brother-in-law Keith Roberts, the theater was shining, welcoming 30 guests who came out in support of the quartet.
"Walking in after my bus route, listening to them doing a sound check, I began to tear up, it was very emotional to have some noise in the theater again and know there would be people coming," said Norton's wife, Krista.
The "Boys" have been largely impacted by the pandemic, they "dusted" off boxes of their latest CD, Faithful Still, which has been stored in bottom of the bus. "We literally received the shipment when everything came to a halt," said group leader, Ricky Carden.
Normally performing 180 times a year, they have performed 20 times since March, including Monday night's performance, with a total of 30 times when their season comes to an end in December.
The quartet was featured on the November 2019 cover of Singing News, a publication about southern gospel music, with the headline under their name reading "a 30-year overnight success."
While the group has been around 30 years, Carden is the only original member, taking over leadership at 19 years of age, singing baritone. Daryl Paschal, from Ruffin, NC, has been a mainstay in the group while bass singer, Zac Barham, Summerfield, NC, joined the quartet shortly before their performance last year at the Northrup. Tenor, Doug Pitman, Macon, GA, joined them in 2017.
While they have had 40 songs on the Singing News chart over the past 30 years, this Fall, they have had three number one songs, their most recent one, Amazing Amounts of Amazing Grace. "I think it's because the group is performing so well together now," said Paschal.
The performance ended with them performing their 2007 song, America Medley which included; My Country Tis of Thee, Battle Hymn of the Republic and God Bless America.
Dorothy Lockett commented this was her first time to see the quartet and she will be back next year while Wilma Lillibridge is sure she has only missed one year.
The evening concluded with supper at the Norton house where several differences between the south and the Midwest were discussed. Paschal said, "I don't know how you live here, it's so dry, we had to inhale the mist from humidifiers on the bus before the performance!" Carden told the story of how they add three cups of sugar to a gallon of tea to make it sweet enough, "you all don't know how to make sweet tea!" At the end, everyone concluded the colors in the south are beautiful, while the wide-open plains and sunsets in Kansas have their own unique beauty.