All League Football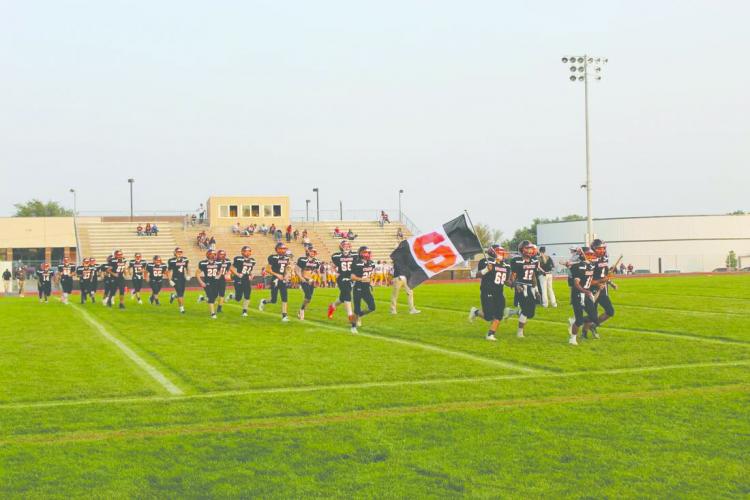 The High Plains League has chosen recipients of all league football honors. Head Syracuse High School football coach, Jordan Irsik, is pleased to announce eight players selected. Irsik feels they should have had three or four more players make all-league team, based on statistics, but were outvoted for senior players on other teams.
The selection process begins when individual coaches submit names. The players are then voted on by the other HPL coaches, however, coaches may not vote on their own players.
Seniors who received all league honors are #65 Brandon Pinto, All HPL 2nd team defensive tackle, #66 Ryan Thompson, All HPL 2nd team defensive end, #3 Joe Mitchell, All HPL 2nd team defensive back, # 68 Gunner Upson, 1st team All HPL center, #6 Luis Perez, All HPL 1st team linebacker, Kansas Football Coaches Association (KFCBA) 2A All State Nominee.
Perez was also nominated for the Shrine Bowl, the annual Senior All-Star game for the best players in the state for all classes. "We are hoping he will be voted in for that as well," said Irsik.
Juniors #ll, Alex Barraza, 1st team All HPL defensive back, 2nd team running back and 2nd team returner and sophomore #67 Roy Aguilar, 1st team All HPL offensive line and defensive line, #24 Ruendy Portillo, All HPL 2nd team defensive back.
Irsik said, "I am incredibly proud of these young men for their accomplishments this season. It means a lot when the opposing coaches in our league respect us enough to vote for that many of our student athletes as the best football players in the league."
A lot of the players who were voted in were surprised. Irsik responded by saying, "I'm not sure they realize how much they've actually improved until the votes came in." He added, "This was the most selections Syracuse Football has had in a long time and we tied the Lakin Broncs for most selections in the league."
Team awards, as voted on by players and coaches include: Most Valuable Player: Roy Aguilar, Most Improved Players: Alex Barraza and Juan Pinon and Most Inspirational Player: Gunnar Upson
Senior Gunnar Upson reflected, "The coach totally changed their culture. He made it to where we wanted to put the work in. He made me want to play for my teammates and see them as brothers, so I just went out and gave it my all every snap." He would like to thank his teammates, coaches, family, friends, and fans for all the support and love they have shown. He is especially is thankful to everyone for the support through the tough time of losing his Grandma earlier in the season. "You all showed me who I wanted to be around and showed me what you all were about."
Roy Aguilar said, "Well I'm honored that my hard work and dedication has been noticed, this is a big step forward towards my future goal in playing college football. I am grateful for this achievement and would like to thank all my teammates that helped me improve and held me accountable."
Alex Barraza is proud of his accomplishments, he feels he worked hard in practice to get in this position and he is blessed to have met his goal as a Junior. "I want to thank my teammates and coaches for pushing me to get better every day at practice."
While Irsik is waiting for more awards to be announced, he believes two or three athletes have a good chance of being selected as All-State. "I think these awards are not just a reflection of these young men, but a reflection of their teammates and our assistant coaches." Irsik is assisted by Jordan Wahlmeier, Casey Finlay and John Le and part of the program are Jr. High coaches Dalton Soullas and Colten Soelzer.
"We did a great job of holding each other accountable, pushing each other throughout our summer and fall workouts and practices, and making a change that will be seen in this football program for a very long time," said Irsik.
Players chose a team photo instead of individual photos/photo by Krista Norton