2020 Wheat Harvest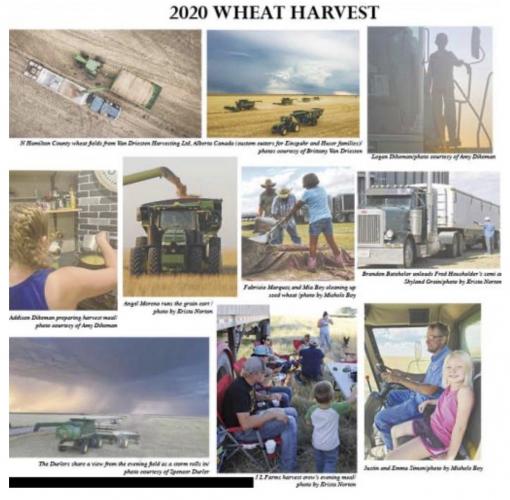 Wheat harvest in Hamilton county brings joy, tears, frustrations and warm memories. Many locals share the pain of the wheat hit by high winds, drought and hail.
Some remember fondly last year when yields of dry land wheat hit 100 bu/acre. Some remember years where combines never came out of the sheds.
And some remember the summers with their family pushing each other for weeks to get the wheat in the bin and tempers flaring at each other.
Wheat harvest embraces family, hard work, hurrying to get it in the bin, warm harvest meals and lots of breakdowns along with black biting flies and temperatures in the triple digits.
We traveled around the county to see just a bit of this year's harvest. The custom cutters for the Huser and Einspahr families call Alberta, Canada home. With a drone, Brittany Van Driesten of Driesten Harvesting grabbed the top two great shots from the north part of Hamilton County.
It inspired me to set off around the county, as much as time allowed, to take pictures of the many faces of harvest.
Emma Simon harvests wheat with her dad in the combine for a while, then hops in the grain cart with her grandma, Janice Simon. When asked what she liked best about wheat harvest, Emma replied, "I like harvesting the grasshoppers."
Trucks line up at the elevators in Syracuse, Coolidge, and Kendall, to unload wheat and hurry back to the field. Some bring coolers of lunch and others stop to share meals with family.
It is a hurry up and get it in the bin despite the breakdowns and the beautiful yet sometimes untimely rains.
Even the breakdowns help businesses. A+ Auto and Diesel and Superior Car Care had a dozen service calls to the fields. T and W Tire were called out two to three times daily.
American Implement reports over 30 service calls as well.
Bulldog Pizzeria threw their hat in the ring with prepared harvest meals. Owner Jordan Spears said, "Owning the pizzeria has brought awareness of how much business comes to our town with harvest."
Skyland Grain's Region Manager Justin Scott said, "It's definitely down from last couple years. Lack of rain and some bad weather including hail along with weather that came in during harvest made it an interesting time."
He added, "By the end of the weekend, we should be down to just a few producers cutting."