A Memorial Day Slow Hand Salute to Mick Hoff
"What we have once enjoyed we can never lose. All that we love deeply becomes a part of us." ~ Helen Keller

For nearly two years, "Where Are They Now?" has searched out the people who had once called Hamilton County home to tell their own story; however, in this very special Memorial Day edition, the people of Hamilton County remember one of their own, a hero, a realtor, a husband, a father, a friend, and family who lives on in their fondest memories. Today, for the first time, allow us to posthumously introduce Michael, fondly known in his youth as "Mickey," Hoff. This is the story of a boy who grew up in Hamilton County, told by the people who knew him and loved him most, so that his story of service and sacrifice will become the memory of a hero that lives on with all of us, as a part of the community legacy.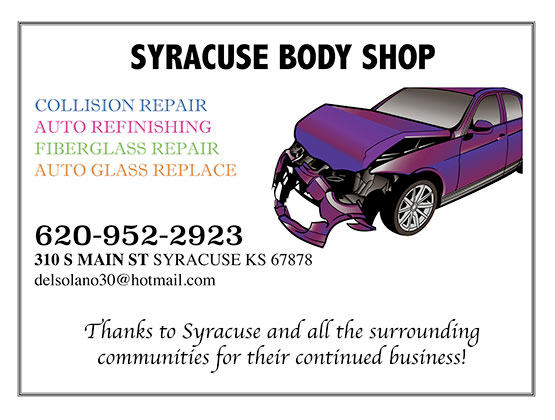 Micheal "Mick" Leroy Hoff was born on September 18, 1943, to Henry and Opal Hoff in Syracuse, where he grew up with his older sister, Dorothy, and younger sister, Delite. There were strong family ties within Hamilton County, allowing Mickey to grow up among multiple generations of family. Henry's sister, Pauline Potter, was mother to Beverly, Dee, and Roger Potter. Opals' sister, Dorothy Nance, was the cashier at Herndon Grocery Store and the mother to Larry and Jerry Nance.

Beverly (Potter) Holdren carefully archived memories and conversations with Mick in a scrapbook that has moved with her beyond the Hamilton County line. Pauline Potter had told Beverly the story of Mick and Dee Potter learning to walk, "They couldn't wait to see each other and would wrap their arms around one another, and then start walking through a door, but wouldn't fit. Quickly, the battle would begin and, immediately, they'd start wrestling, but the next thing you knew, they were hugging and playing again." Beverly noted, "Mick and Dee were the best of buds, but once in a while they would have a battle."

From an excerpt, entitled, "Memories that Mick had looking back on his Syracuse childhood," Beverly recorded Mick's words, "Once when we were at Uncle Louis' house, and the Nance's were digging a basement, there was a big dirt pile. I did something and Dee started chasing me to the dirt pile. I got tickled and ended up slowing down so Dee caught up with me and beat the crap out of me. But we were always the best of friends."

Mickey graduated from Syracuse High School in May, 1961, before attending the New Mexico Military Institute in Roswell, New Mexico. From Roswell, Mickey received an appointment to The United States Naval Academy in Annapolis, Maryland. There were more people in Mick's freshman class at Annapolis, than in all of Hamilton County. Midshipman Mickey Hoff graduated from the United States Naval Academy on June 8, 1966, receiving his Bachelor of Science degree and was commissioned Ensign in the Civil Engineering Corps (CEC) of the United States Navy. While at Annapolis, he participated in football, volleyball, and lacrosse.

Mickey immediately deployed to Vietnam in August, 1966, with a construction battalion, where he served as Second Platoon Commander, Charlie Company, U.S. Naval Mobile Construction Battalion Nine, during the construction of a U.S. Army Special Forces camp at Minh Long, Republic of Vietnam, between September 10 and November 25, 1966. On February 12, 1967, at an award ceremony at Camp Haskins, near De Nang, South Vietnam, Ensign Hoff was awarded the Navy Commendation Medal for his leadership and meritorious achievement. Commander D.N. Shockley wrote to Mr. and Mrs. Hoff, "This is an achievement of which you can be proud. Michael, by his rare leadership ability, his refusal to give up in the face of discouraging obstacles, has contributed greatly to the U.S. military efforts in Vietnam." Mick Hoff would do two tours in Vietnam during the height of the war. In 1972, Mick earned his Masters degree in Professional engineering from the University of Colorado Boulder.

In June, 1972, Mick was transferred to the State Department in Washington D.C. as the officer in charge of a SeaBee Detachment supporting US embassies worldwide. Mick traveled constantly and his duties and responsibilities with the CEC frequently put him on a commercial airline, where he met Trudy who worked for the airline arranging his travel. A relationship blossomed. Mick got orders that he was getting transferred to Charleston, South Carolina, so their engagement was quick. They had two weeks to plan a wedding. They couldn't get married at Annapolis on the weekends because there were football games scheduled for both weekends. A compromise was made: Mick married Trudy Galuzzo on Monday, October 4, 1976, in Annapolis, Maryland. Trudy's job with the airline got them a honeymoon around the world on her airline pass. In Charleston, Mick was the Assistant Officer in Charge of Construction at Navy Public Works
In 1979, the Hoffs were transferred to Virginia Beach, Virginia. It was there, Mick and Trudy had a daughter, Kathleen, in 1984. Mick and family were then transferred in 1985 to the US Naval Station at Sigonella, Sicily, in Catania's metropolitan area. In Sicily, Mick was the public works officer, commanding hundreds of battalions and was promoted to Captain, U.S. Navy.

In 1987, the Hoff's were transferred back to Virginia Beach where Kathleen started elementary school. Mick had his knees replaced, and, as a Captain with the United States Navy, life had found a normal, steady pace in Virginia until the family considered the rumors of next move, which would be to Japan this time. Mick didn't want to uproot Kathleen from her schooling and the stability they had enjoyed for over five years. In 1994, after serving 27 years in the United State Navy, Mick retired as a Captain so that Kathleen, a fourth grader, would never have to change schools again. On the precipice of an intense career shift, moving from a military family to a civilian family, Mick had a serious talk with Trudy, "You've stuck by me through all these years of military life. What do you want to do now?" Trudy knew right away that she wanted to open a real estate business, which is exactly what they did. Trudy Hoff RE/MAX Alliance became a reality.
In his time in the Navy, working public works and construction, Mick did the little things to take care of people. At the embassies across the world, he assured there were working utilities in functional housing, which would always elevate him at hero status with the ambassadors serving in foreign countries. In South Carolina, he took the time to fix the little things that the officers' wives needed fixed in the large, southern houses on base. At every turn in his retirement, someone remembered him for how he had helped them and made them feel special.

In his retirement, for the first time in his life, Mick grew a beard. It grew in with some black, but it was mostly white.

The Mick and Trudy united partnership continued into the real estate business, but make no mistake, this was Trudy's business and Mick worked for her. With their perspective of a military family who had to relocate over and over, Trudy's RE/MAX Allinance "team specialized in working with military and relocating families, buying, selling, property management and senior services." Trudy observed, "Mick brought something special to real estate with this mid-western helpfulness. He was 'The Quiet Giant.' He didn't say much as he watched and listened, but when he did, it was the perfect observation, information, or suggestion at the perfect time." Clients responded to Mick's caring and attentive representation of their interests.

Trudy's business model of giving back didn't stop with helping military families transition into new homes. Each year, starting in 2004, Trudy Hoff RE/MAX Alliance real estate agents collected gifts for children who were hospitalized during Christmas and Mick, with now a snow-white beard, visited the Virginia Beach Children's Hospital of the King's Daughters and the kids, as Santa. Mick went from room to room, visiting the kids and delivering the gifts to the children. His kind, giving nature, and Western Kansas speech pattern made him the perfect Santa. The hospital had other Santa volunteers; however, after ten years of successful visits to the hospital, Mick became their only Santa. Over the years, their Christmas mission expanded to include not only the patients, but also the siblings, parents, and nurses on duty at the hospital. Trudy's RE/MAX Alliance team and Santa Mick would arrive at 10 a.m. with a truckload of toys for delivery and would visit each and every room in the children's hospital, until 6:00 p.m., delivering gifts to hospitalized children; however, as he tried to leave, he would be stopped by every child, so Mick assured that there was a bag of extra gifts available to have a gift for every kid.

This was absolutely Mick's nature, as through the years when he traveled with Trudy and Kathleen, he assured that he had a bag prepared for all the things either one of them might need or enjoy on the trip that might have been overlooked or forgotten. Mick was a caretaker and he took the time to know people and anticipate ways where he could serve them in their times of need.

Kathleen was, without a doubt, the apple of Mick's eye and he was relentlessly supportive of her as she went to the University of Virginia, three hours away, to major in Anthropology and minor in Spanish, as well as Massage School. He thought that, perhaps, she would need something to fall back on, like real estate. Kathleen got her real estate license one summer when she was bored, and worked at Trudy Hoff RE/MAX Alliance for four years, but also worked as a massage therapist and personal trainer. One day, Kathleen Hoff applied and was hired as a firefighter for the Newport News Fire Department. In the proudest moment between the father and daughter, Mick pinned Kathleen's badge on her when she graduated from the fire academy.

In one phone call back to Kansas, Beverly Holdren asked Mick what Kathleen was doing. "Chuckling, Mick responded, 'You'll never believe it; she's a firefighter!'"

On Saturday, August 3, 2013, just two weeks shy of her one-year anniversary at the fire department, Kathleen had been reading a book where the character had lost her father and it really upset Kathleen. She called Mick to talk about this and, as usual, he put her mind at ease. Mick had been tinkering in the yard that day and his back hurt. Trudy was at a going-away party for a colleague. Mick and Kathleen talked for about fifteen minutes, between 8:30 and 8:45 pm, ending the phone call to meet for their usual time together at the gym on Sunday at 9:00 am. At 9:45 pm, just an hour after the phone call had ended, Trudy retuned to find the laundry folded and put away and the house picked up, as Mick had continued to take care of her. Mick appeared to be napping, but when Trudy tried to wake Mick up, there was no response and he never woke again. Trudy and Kathleen were devastated, but so was a larger community of people who had a special story about how Mick Hoff had helped them, cared about them, or in some way made a difference in their lives. His wake lasted for four and a half hours with a line around the funeral parlor waiting to offer condolences.

On December 27, 2013, Micheal "Mick" Hoff was interred at Arlington National Cemetery on a beautiful fifty-five-degree day, with blue skies. Initially, the scheduled date seemed like the last brutal stab in their broken hearts as they mourned the man who loved Christmas; however, the chapel at Arlington was filled with poinsettias, all of the family was off for Christmas vacation, they could walk behind the horse-drawn caisson wearing their coats, and the Capitan that led the procession that day was once a child who Mick and Trudy had babysat. It was the perfect day to honor Captain Hoff. Arlington National Cemetery is a hub of activity with funerals, tourists, and mourners visiting their loved ones. As they walked, strangers stopped, removed their hats, covered their hearts, and remained silent. Trudy remarked, "Just like in life, strangers were reverent to Captain Hoff."

Trudy has since attended a reunion for all the naval veterans, which included the widows. It was at this gathering that Admiral Buffington told her that Mick's farm training in Hamilton County served him well. He understood the capabilities of the machinery and could drive any vehicle, tractor, or dozer in the construction fleet.

Trudy is still active as a real estate agent, but continues to own Trudy Hoff RE/MAX Alliance and has 155 agents and staff who support the Children's Miracle Network and Children's hospitals. She also serves on the Sea Bee Memorial Scholarship Committee.

Kathleen is moving up into leadership positions with the Virginia Beach Fire Department, serving as a Firefighter, Paramedic, certified in Swift-Water Rescue and a HazMat Specialist. She also teaches Yoga and Jujitsu.

Santa Mick lives on through RE/MAX Alliance's Santa's "Ho, Ho, Ho!" in the halls of the Children's hospital, as Mick had done each year since 2013. As visitors enter the lobby, there is a plaque, dedicated to Captain Hoff, and the love he had for children, people, and Christmas.

This Memorial Day, we will gather on the hill west of Syracuse to hear the names of veterans who have served honorably, lived fully, and left behind a legacy of people who knew, loved, and admired them completely.
This year, when you hear Captain Micheal "Mick" Hoff's name, you will now know the hero who served his communities and his family to the very day he could serve no more. We honor Mick with so many others for the selfless sacrifices they and their families, like Trudy and Kathleen Hoff have made for our country. We are proud of the legacy our Hamilton County Veterans have left with our community, across our world, and in our hearts.