ALUMNI WEEKEND
Mother Nature cooperated this year for the annual Syracuse Hamilton County Chamber of Commerce alumni parade and BBQ. Last year we were looking for a jacket and shelter from the cool wind and this year we were looking for a shade tree and hoping a little breeze would come and cool us off. Although the parade was small the conversations and reuniting with classmates was huge.
The parade began with the presentation of the colors by local veterans Marvin Weis and Rusty Wharton, followed by the singing of the national anthem by Alyssa Banning, elementary vocal music teacher. Following the parade, the BBQ attracted approximately 300 alumni and locals.
As the floats lined up, Michele Boy, Bethanie Popejoy and myself, got a chance to ask those gathered for their reunions something they remembered.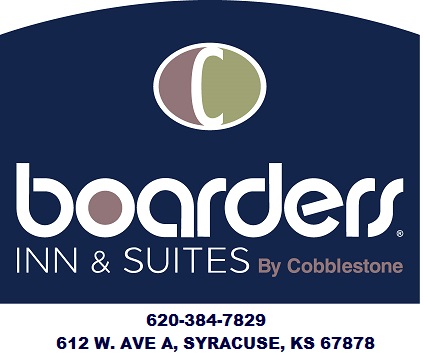 RaeDene Schmidt, Class of 1962, was hesitant to share one memory for fear of getting some people upset. Their prom was "Springtime in Paris." To save money several from their class who will not be named went around town cutting lilacs for prom.
As she shared, those reuniting giggled.
John Stanley was the legal cousel for the Class of 1972 and it must have been a heck of a class because they didn't want to share much. They did want to say they think discipline is missing from schools today.
Van Vesper, Class of 1969 was here and mentioned, "One time, Mrs. Drew put tape over my mouth to make me stop talking in Kindergarten. I had to leave it there all day. [Secretly and defiantly,] I pulled the tape off during nap time on the little mats, but put it back on before we got up. She never knew I took the tape off when I wasn't supposed to." He now resides in Garden Plain, Kansas.
And Sarah and Ray Hatton from the Class of 1962 added, "We came to Syracuse from the Bear Creek Schools. Virgil Hecker was the best ag teacher ever! Rock Hughes taught algebra, Don Richter taught history, and a young teacher, LaVerna Buller, taught English."Sarah (Hatton) Cooper now lives in Tulsa, Oklahoma and Ray lives in Scottsdale Arizona.
From the Class of 1967, Risa (Schafer) DeVaney added, "I remember dragging Main with Sheryl (Rudy) Carter, Nancy (Petterson) Hull, and Carla (Thomeczek) Jantz. Nancy let me drive her Mustang convertible because it was a standard transmission and Nancy didn't like to shift. I loved driving that car." Risa and Dennis live in Garden City now.
The visiting continued and the Hamilton County Library held a book signing for George Phillippy's set of books - Choices. It was a hit. People also visited at the local museum and Northrup Theater with many classes assembling at various locations later in the day.
Early Monday morning, before the crowds at the break of day, several veterans rose to decorate graves and the cemetery for Monday's Memorial Day services. Bill Royer, John Swisher, Rusty Wharton, Mark Davis,Randall Dupree, Larry Ochs, Oliver Palmer, Marvin Weis, Mort Thompson, Chris Sukach, and Bob Kirby placed a flag at each of the designated graves. Many family members and friends gathered to hear Kai Englert and his sister Major (retired) Kris Sukach read the 500 names of veterans buried in the cemetery.
General Ray Hatton, was in town from Phoenix attending his 60-year class reunion. Son of Ray and Bernice who were farmers and rancher, he knows the skills he learned on the farm greatly influenced his career as a helicopter mechanic.
As a junior at Panhandle State in Goodwell OK., he enrolled in the ROTC program. Panhandle had a fixed wing program and he wanted to fly helicopters because it looked like fun. "Nam was needing a million aviators and flying seemed much better than driving a tractor!"
Graduating with a degree in mathematics, he chose the Corps of Engineers. "I knew I wanted to go into the army and make a career, Vietnam was on and it was my duty to go and serve!"
"I was a maintenance officer, did a lot of tests flying after we fixed them, it's fun and interesting." He recalls a young captain, nicknamed "magnet ass", "Because he attracted lead and we knew whenever he went out, we would have some sheet work to do tonight because his bird was going to get shot up!"
Hatton recalls an incident when he flew through a verga or rain that does not hit the ground. "The rotor blades break it up and I saw a rainbow that went all the way around the blades, it was a kick in the pants!" Hatton loved to fly a helicopter and describes it like this, "Flying a helicopter is the most fun you can have with your pants on!"
He was blessed to travel to Hong Kong, Australia, Hawaii, "For this ole country boy, that was traveling!" General Hatton retired after 20 years, one month six days, four and a half hours, "But who's counting!"
For the third year in a row, there have been local veterans honored with a Quilt of Valor at the Veterans building following the services. A record crowd of approximately 80 gathered as six veteran's shoulders were draped with a quilt. The quilt is a quality, handmade quilt awarded to a service member or veteran who has been touched by war. The quilt says thank you for your service and sacrifice in serving our nation
This year's recipients were Alton (Mort) Thompson, Marvin Weis, Daryle Lewis, Fred Hendrickson, Dennis Carter, unfortunately Fred Wedel was unable to attend, but his quilt was presented to him at the Hamilton County Hospital where he is a patient.
Fred Wedel volunteered for the Navy and entered December 3, 1967, serving until October 1971, continuing two more years in the reserves. He trained in San Diego, CA. and then Long Beach CA at the Naval Shipyard. He was stationed in Hawaii for three years first on a destroyer, then a repair ship which also handled supplies. He received a Sharpshooter medal with a five-inch gun that took two 80-pound bags of black powder. He was proud to be the third generation in his family to serve in the military.
Alton (Mort) Thompson entered the Marines January of 1975, reporting to San Diego, CA. later serving in the United States Marine Corps Air Facility in Santa Ana CA. He received the Fire Watch ribbon and Sharpshooter badge. He trained as a forklift operator and the facility was a supplier for bivouacs. He was released from service in January 1977 as a Corporal E4 and was proud to be a Marine
Marvin Weis was drafted into the Army at Colby, KS. in 1964, training at Fort Bliss, TX., and then to Fort Polk, LA. He was in the 4th infantry B company and was a second mate in the 2/8 mechanized infantry. He served in Vietnam on armed personnel carriers and pulled security. He was discharged in 1966 at Fort Rucker AL., and received the Vietnam Campaign Medal, Sharpshooter with a M14, National Defense Medal, Vietnam Service Medal, Good Conduct, two overseas bars and two Combat Infantry Badges. He is proud of the camaraderie among his unit, approximately 30-35 which meets yearly.
Daryle Lewis joined the Colorado National Guard in June 1967, serving six years, and two additional years in the inactive reserves. His basic training was in Fort Campbell, in Kentucky, advanced individual training at Fort Sill, OK., in artillery with the 105 howitzer units. He served in an Artillery unit in Lamar until the Lamar National Guard became a Medic Unit in March 1968, so he trained as a medic, becoming a Medical Corpsman Specialist 5th class. The National Guard was on high alert for the first two to three years, helping with the Kent State riots and forest fires, staying at the Armory during those high alert times. They also worked with the Lamar police and the highway patrol and Daryle liked the idea that he could help locally in emergencies.
Fred Hendrickson joined the Navy in 1963 in Winfield. His home port was San Diego, CA. He trained as a welder, also known as a metalsmith, serving on the USS Thomaston Landing Ship Dock 28. He received an Expeditionary medal, DD214 and a National Defense medal. He was released in 1966 as a 3rd class metal smith. He was proud of getting to serve his country and be a part of the military which opened the door for jobs when he got out.
Dennis Carter was drafted into the Army in May 1966, receiving his basic training at Fort Riley going on to Fort Knox and Fort Eustis before returning to Fort Riley. He had hoped to see the world, but spent most of his three years at Fort Riley, serving as a transportation officer, doing logistics supply. One of his duties he was assigned to as part of the General staff was caring for the last living Calvary horse who was getting old. When the horse died, Dennis oversaw the details for a horse funeral. They made a special coffin so he could be buried standing up. He also helped with riots and was able to attend General Eisenhower's' funeral. Dennis is proud to have participated in the military and his rank at release was First Lieutenant and he was released in May of 1969.