Brucker Wins Mad Dog in Utah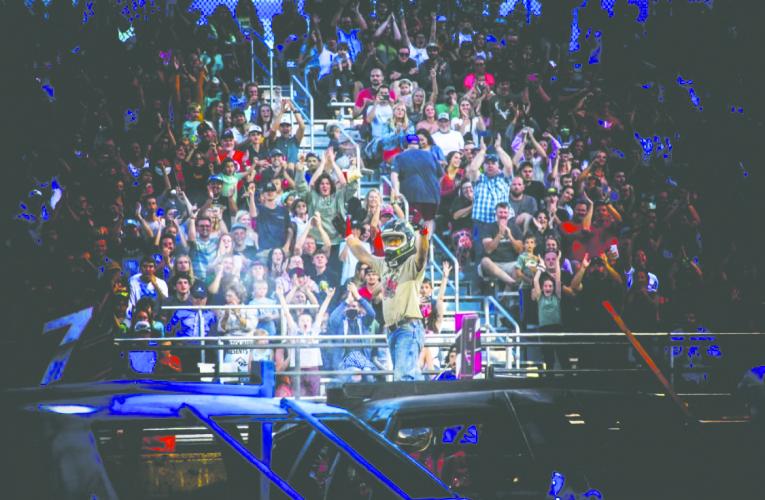 In Demo Derby language, MAD DOG is the Most Agressive hitter. And Zach Brucker nailed it.
Local demolition derby driver, Zach Brucker, traveled to Heber City, Utah, July 30 and 31, to compete in the Wasatch Wipeout held at the Wasatch County Event Complex. Accompanying him was his wife Amy and friend and fellow demo derby enthusiast, Austin Wilson.
Why would someone enter a ring and crash into other cars? "It's a thrill and the adrenaline rush you get from crashing cars," said Zach. He is always on the lookout for derby cars because they are getting harder to find. When it comes to the cars, he explained, "Sometimes it's a one and done it!"
Leading up to the event in Utah, several friends, Wilson, Christopher Lozar, Garth Swan, helped Zach get the car ready, making sure to follow the rules for the event since each event has a different set of rules. The Syracuse derby allows four plates or welds and the Utah allowed ten welds, which makes it impossible to run the car locally. "It would be nice if there were one set of rules everywhere," said Zach.
Arriving at the arena at 9:00 am, he and Wilson were able to do a little finishing before inspection. "They then gave us a list of changes and if you get through those, without five infractions, you get to weld two extra fix it plates before they ran the first night. "It's kind of dangling a carrot in front of the donkey to bring a car built to the rules, getting a reward."
Allowing more welds, enables most cars to be able to run both nights, therefore, putting on a good show both nights. "They're all about the product out on the track and making their spectators happy," said Zach.
It's Friday evening and time for the race. Zach is in heat number three, and they enter the arena as the announcer introduces each driver. As they circle and get the thumbs up to begin, the announcer says, "Heber City, help us count down, from 5, 4, 3 ,2, 1 Derby!!!! And the crashing begins. One-half lap around the arena, Zach got behind a big station wagon and pushed him onto the concrete barrier, eliminating the car for the night.
He was driving like he had done it for fifteen years; he has been competing since he graduated high school in 2006. He was a crowd and announcer favorite coming home with the nickname of "Zack Attack".
The announcer, while Zack was racing had many comments such as "The number 63 has no friends anywhere, he's out on a mission" or "How about car number 63?" and "He's still going strong, that 63 car, he's still going strong!!" and again, "He's back and going, everybody loves him!"
Subscribe today to read more! https://thesyracusejournal.com/secure/signup
photo credit to Stirrin Dirt Racing