BUSY WEEKEND EXPECTED IN SYRACUSE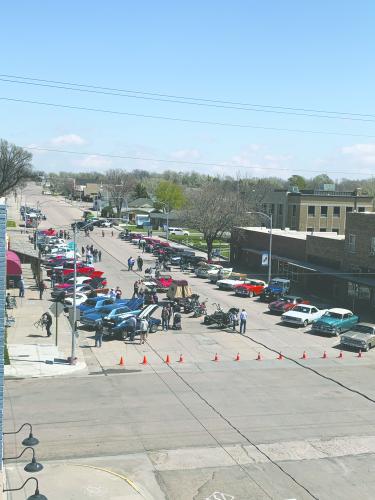 It's an eventful busy weekend coming up!
Beginning Friday evening at 4:00 PM, the Syracuse Youth Activities Association is sponsoring the third annual track meet for first through sixth grade.
Grades first through sixth can compete in the 50 to 1600 meter, relays, and the usual field events including a softball throw and turbo javelin.
The 19th Annual Cruisin' Into Summer Car Show will be held on Main Street. Saturday, sponsored by the Hamilton County Chamber of Commerce through donations from individuals and business owners.
Registration is 8:00 - 10:00 AM in front of the Northrup Theatre. Prizes awarded at 1:30 PM. The event can attract upwards of 80 entries if the weather is permissible. Spectators can browse and visit with owners who are willing to share their stories and a little bragging can go on.
Also happening Saturday, Hamilton County Hospital's Inaugural Three-Person Scramble Golf Tournament at the Tamarisk Golf Course. Registration begins at 9:00 AM with the tournament beginning at 10:30 AM.
All funds raised will provide two $500 scholarships for local high school seniors. Additional funds will go to support Hamilton County Hospital's special projects.
Making the sand fly is another option, as there is always fun to be had at the sand park.
Maybe a 1 mile or a 5K run interests you. If so, the Syracuse High School Cheerleaders are hosting a Color Run fundraiser. Your $25 entry fee not only helps the cheerleaders but gets you a white tee shirt which will be covered in color powder during the run, so be prepared with eyewear!
You can round out Saturday with a trip to Hill Top Lanes. They are featuring open bowling starting at 4:00 PM, black light bowling at 8:00 PM.
If bowling isn't your thing, perhaps a movie is up your alley. Dungeons & Dragons: Honor Among Thieves is playing at the Historic Northrup Theatre at 7:00 PM, Friday, Saturday, and Sunday.
Don't forget to stop and eat at our local restaurants.
A common denominator with events in Hamilton County is the people willing to volunteer to make fun things happen. There is no denying the financial support from individuals and businesses, opening their hearts in support of youth and the community.