Fentanyl In Hamilton County
Do you know what Fentanyl is? If you don't, you should. It kills instantly! Touch it and you overdose. Inhale it you overdose. It is one and done. It is 50 times more potent than heroin. It is a deadly synthetic opioid that is being pressed into fake pills or cut into heroin, cocaine, and other street drugs to drive addiction.


There is an adult only meeting set for April 11 at 6 PM at the Northrup Theatre, and you should be there. According to the DEA (Drug Enforcement Agency), the Sinaloa Cartel and Cartel de Jalisco Nueva Generacion are making fentanyl and pressing it into fake pills. Fake pills are made to look like OxyContin®, Xanax®, Adderall®, and other pharmaceuticals. These fake pills contain no legitimate medicine. Fentanyl is also made in a rainbow of colors, so it looks like candy.
Drug traffickers are using social media to advertise drugs and conduct sales. If you have a smartphone and a social media account, then a drug trafficker can find you. This also means they are finding your kids who have social media accounts.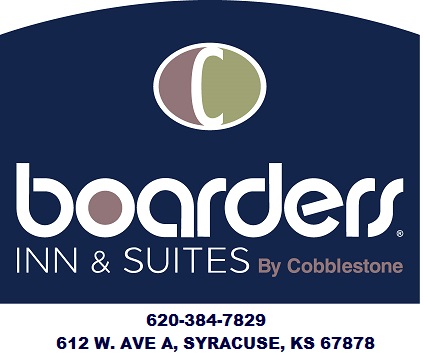 Dr. Tyler Stephenson reiterated, "Fentanyl is deadly. It is laced into marijuana, vape pens, and fake prescription pills. [As in added in without the buyer's knowledge]."
Think these drugs aren't around here? You are wrong. Sheriff Mike Wilson points out, "We have busted criminals with marijuana, cocaine, methamphetamines, LSD, and Fentanyl laced fake prescription pills."
Hamilton County Hospital has seen a rise in accidental overdoses. According to Dr. Tyler Stephenson, there have been three in the past three months. All accidental. Sheriff Wilson reports drug cases in Hamilton County have more than doubled in the last year. Hamilton County had 46 Felony Drug Cases and 10 Misdemeanor Drug Cases in 2022 compared with 17 Felony Drug Cases, and 11 Misdemeanor Drug Cases in 2021.
At February's USD 494 Board of Education meeting, Narcan was approved to be kept at the school nurse's office and administered by the school nurse, Janet Thomeczek. Narcan is Naloxone - a medicine that rapidly reverses an opioid overdose.–But it's not a guarantee to save your life. If you smoke, vape, ingest a high enough toxicity, Narcan is ineffective. And there is discussion that a new drug is coming in that Narcan is useless against.
Sheriff Wilson said, "We have had several cases of Vape Pens with THC [Tetrahydrocannabinol - the major psychoactive component and one of the 113 cannabinoids recognized in cannabis] that was in a youth's possession. One of the vape pens tested presumptive positive on a field test kit for methamphetamine/THC. Fentanyl is in every community and Hamilton County is not immune to the effects of Fentanyl-laced fake prescription pills. The DEA's One Pill Can Kill Campaign states that 6 out of 10 Fentanyl-laced fake prescription pills have a lethal dose of Fentanyl. Parents need to talk to their children when it comes to vaping and the dangers that come with it. Children are often getting these vapes from people that are selling them not knowing what substance are getting put into the vapes."
Dr. Stephenson agrees. There is an uptick in accidental overdoses. "They think they are taking something, but it is laced with something else - fentanyl or meth. All age groups are affected. It has been found laced in medication of people over the age of 50 who have used long term marijuana. Under the age of 25 we have seen several methamphetamine and opioid visits. Fentanyl is an opioid. A severe overdose is almost always fentanyl. We have seen three overdoses in the past three months."
Dr. Stephenson explains, "Fentanyl is very powerful for the amount of substance. Police officers have been exposed when it is in the air through the skin. It is exponentially more powerful and short acting. While it is used in a hospital for anesthesia, it only lasts for an hour. My big takeaway we are seeing a lot of drug use in Hamilton County and the Midwest. People are taking drugs that they don't know what is in them. They are being misled by whoever is supplying them and that is extremely dangerous! There are not a lot of side effects to Narcan. It will be available without a prescription. And if you give Narcan inappropriately it makes you feel lousy with the hallmarks of opioid withdrawal instantly, but it does not cause serious consequences."
Last week District Court Judge Christopher Velez and Hamilton County Attorney Rob Gale spoke to the high school juniors and seniors in blunt terms about drug and sex crimes.
Hamilton County Library along with the Sheriff's office, Hamilton County Hospital, EMS, and Rotary are sponsoring an adult education class on drugs. Kansas Highway Patrol Technical Trooper Carson Nuss has had 13 years with KHP's Drug and Alcohol Evaluation Unit and he has been invited to come speak to us next Tuesday.
Hamilton County Library Director Amy Brucker said, "I heard Technical Trooper Nuss speak at a Seatbelts Are For Everyone (SAFE) Conference in 2019. Two minutes into the presentation my jaw dropped and never came back up. The information and delivery by Trooper Nuss shocked me to my core. I didn't realize how little I knew and walked away more educated on the reality of the situation. I really wanted others, especially parents, in the community to have an opportunity to hear him too. For four years, working between calendars and COVID, a presentation hasn't worked out. This fall, a parent reached out to me about bringing in a speaker for the topic. I told her we needed to get Trooper Nuss here. Then a few weeks ago, at Rotary, there was concern for educating our community about drugs. It's different from the dangers we have faced in the past, it's scary. I left that lunch and emailed Trooper Nuss; the presentation was set in a few short exchanges. I feel it has finally worked out during a time where we as a community are willing and ready to listen."
It takes a village. And as a parent myself, I pray the village shows up to this meeting to educate themselves.