Hilltop Lanes New Owners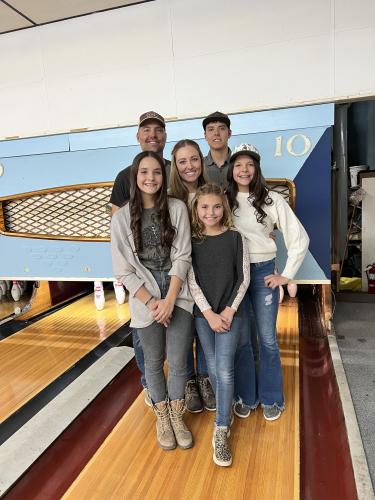 Just a couple of weeks ago, the Tedders from Walsh, Colorado, purchased Hilltop Lanes.
While Brittany and Matt Tedder may live in Walsh, Colorado, they have grown up in and around Syracuse near Matt's relatives, Rod and Dona Tedder.
Of all the bowling alleys around, Hilltop Lanes has been their favorite. Matt grew up around the Hamilton County Demo Derby and playing around Tarbet's pit. His father, Jerry Tedder, has worked for Tarbet, now Croell, for many years.
Brittany said, "We believe in rural development. We enjoy traveling to different places, particularly small towns. We have bowled here for several years. We saw it was for sale and decided to go for it."
Their four children, Cole, Jocelyn, Madilyn, and Gracelyn pitch in whenever they can, too!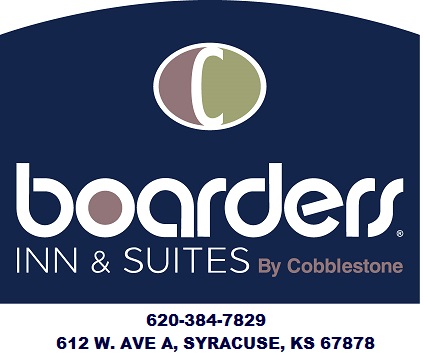 Cole is a junior at Walsh High School and is involved in football and basketball. He has three sisters- Jocelyn in ninth grade, Madilyn in sixth grade and Gracelyn in fourth grade. Madilyn and Gracelyn are involved in competitive gymnastics. Jocelyn retired after the 2022 season.
Matt and Cole are the behind the scenes computer and pin setting troubleshooters. But all do whatever needs done.
Cook Anita Dupree enjoys teaching the girls and they love helping. Anita is a very patient teacher.
The family stays busy with their business, Tedder Ag where they sell precision ag systems technologies and Monosem planters along with being seed dealers. They are also partners in a catering business with a friend of theirs. Brittany does the accounting for Tedder Ag as well.
The Tedders have visions for the bowling alley. Just a few ideas include more indoor/outdoor space to allow them to open year round and have cornhole and areas to eat and drink. Brittany said, "We are already seeing kids coming up and hang out more. We want that to continue and build on it. Everything from baby showers to bible studies. We want to keep the retro feel. We moved the lockers back into the main area. And we love the old signage."
If anyone is a fan of the synthetic lanes, that isn't going to happen. The Tedders want to keep it old school.
Janet Weis will continue as manager and bookkeeper, Raymond Munoz maintenance, and Anita Dupree cook.
"We really like Syracuse. There is so much to do here. My kids like going to the movie theatre. There are great restaurants, and we want to be a part of the town. I dream and draw and Matt makes it happen," said Brittany.
Welcome Tedder Family!