HOMECOMING MOVED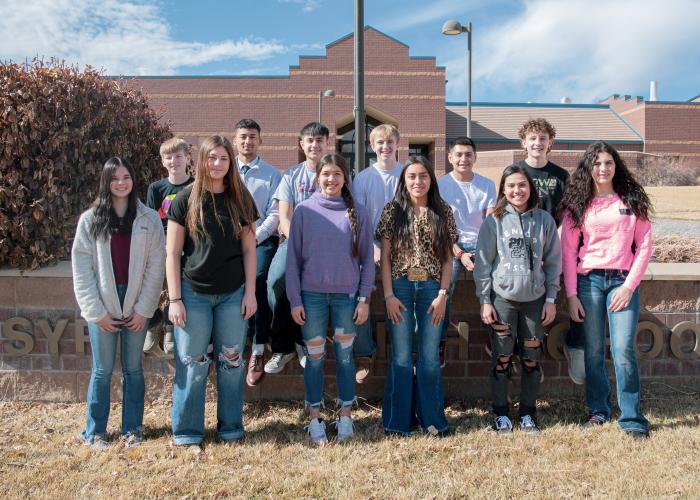 The Homecoming Court for Saturday's events was announced. Homecoming was moved from Friday evening to Saturday. No JV Girls game. The Barney Akers Gym will have JV Boys play at 11:30 AM, C Boys game at 1:00 PM. In the Herndon Gym, Varsity Girls will play at 1:00 PM and Varsity Boys at 2:30 PM. Homecoming Coronation will take place following the Varsity Boys game.
Seniors: Yadira Moreno and Hugo Leyva, Brandee Garcia and Kyler Keller, and Karen Solano and Bryan Rosales are vying for Homecoming King and Queen. Their court consists of Juniors:Alex Housholder and Jose Martinez Sophomores: Jackenzee Worsley and Brody Keller, Freshmen: Peyton Ochs and Mason Scott. And Coy Harris and Joslyn Rivas are the elementary representatives.
The Syracuse Bulldogs will take on the Sublette Larks. Come out and show your support!
Go Bulldogs!
From left to right - Freshmen: Peyton Ochs and Mason Scott Juniors:Alex Housholder and Jose Martinez Seniors:Yadira Moreno and Hugo Leyva, Brandee Garcia and Kyler Keller, Karen Solano and Bryan Rosales Sophomores: Jackenzee Worsley and Brody Keller, Not pictured - Elementary Representatives: Joslyn Rivas and Coy Harris /photo by Tomas Gonzalez