JH BOYS "A" TEAM HPL CHAMPIONS
The energy was high Monday night at Elkhart when the Junior High Boys "A" Team took down the number one seed Lakin Broncs for the HPL Championship win. Coach Vance Keller and Assistant Coach Cameron Coleman had many reasons to celebrate.
First, the A team boys defeated Stanton County, 29-21, and faced Wichita County for the win, 28-17 on Saturday.
On Monday, the Bulldogs came out ready to win and never looked back, holding the Broncs scoreless in the first half by 21 points. The final score for the High Plains League Tournament championship was 39-17. Second, they finished their season 15-1. To top it all off, they started the season with 29 players and four managers and didn't lose one all season long!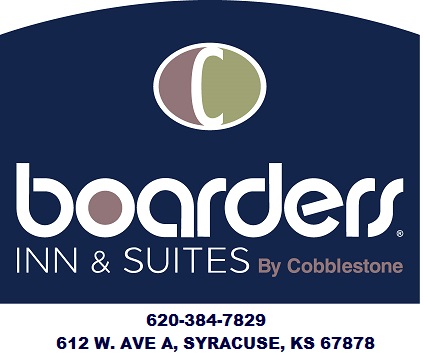 Keller said, "It was a fun season watching them all grow but especially the six boys that had never played before. It was a unique group of boys as we never had any eligibility issues during the season. Our A team was special for me, as a father, in having my son Brock and my nephew Charlie.
All the boys worked hard and learned a lot. Our C Team was probably the most exciting to watch with everyone cheering them on and hoping each one could score! Keller is looking forward to seeing these 8th graders progress and grow in high school next year!
Final stats from the championship game were
Charlie Keller-11 Points, 5 Steals, 5 assists
Daniel Apodaca-11 Points, 6 Rebounds
Gabe Gomez-7 Points, 3 Steals, 1 Assist
Cavin Housholder-2 Points, 4 Rebounds, 3 Steals
Jarret Scott-3 Points, 1 Charge Taken, 1 Assist, 1 Steal
Jhonatan Avila, 2 Points
Aaron Rivera, 2 Points
The A team girls advanced, defeating Elkhart, 20-17, but fell to Lakin, 14-28. They played for third and fourth on Monday, but came up short against Stanton County by two points, 20-22.
Head Coach Abbi Thomeczek said, "This season was so much fun getting to know these girls and spending so much time together. Throughout the season I could see these girls getting better everyday. It was a tough season as the competition was very talented just like our girls. But they pushed through and worked their butts off every single day. As we got to the HPL tournament we were playing teams that had beat us already and my girls didn't let that affect how they played. They went into the tournament with positive thoughts and played the best I've seen them play all season. That showed just how much they improved. We placed 4th losing just by 2 points in the 3rd/4th place game against Stanton County. I am so proud of these girls and am so sad to lose the 8th graders but can't wait to bring in the new 6th graders next season."
The B team girls lost in the opening round against Stanton County, 22-16. Head girls B team coach, Megan Larkin said, "This was my first-year coaching basketball for junior high. It was overall a good season with a great group of girls! We have a lot of girls interested at this level which is exciting for girls' basketball. I am hoping we have good numbers this summer and kids that are willing to put in the time/work it takes to be successful. I have learned a lot this season and am excited for the future for the Lady Bulldogs."
Boys B team had a bye the first game on Saturday, beat Lakin, 44-23, entering the final round on Monday as the number one seed. "We played the best game of the year in the opening round of the tournament against Lakin on Saturday, they were nervous but after a couple of buckets, we were on a roll," said Coleman.
Coleman was optimistic going into Monday's game, "A lot of the boys had not been in that situation before and several were strictly C team last year!" adding, "Monday they were so nervous, knowing they were playing for the championship and I told them it's one thing to be nervous, another to play nervous, and unfortunately that's what we did, played nervous." Unfortunately, they came up short, 14-24 on Monday against Southwestern Heights, with a second-place finish, ending their season 11-4,
He felt Monday was a learning experience, "They knew they did not play their best, they kept apologizing to me, there were some tears, and that's great for me to see, it means they care," said Coleman, "The improvements were exciting, especially the C team, six boys who had never played basketball before this year."
The boys and girls junior high basketball season has come to an end following Saturday and Monday's high plains league tournament.
Coleman's final thoughts on the season, "I'm excited to see how the seventh graders transition into the leadership role, how the eighth graders transition into high school, and what sixth graders are willing to step up as seventh graders.
Things look positive for next year. We have had a lot of support from family and the community supporting the games in town or out of town.