Let's Talk About Trafficking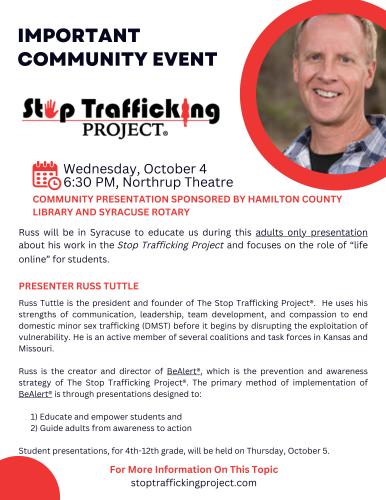 On Wednesday, October 4th at 6:30 PM, an adults only community presentation will be held at the Northrup Theatre on the difficult subject of Trafficking.
The Hamilton County Library, Syracuse Rotary Club, and USD 494 have collaborated to bring this opportunity to educate the community.
Jonna Upson, Hamilton County Health Nurse has seen the presenter Russ Tuttle three times.
"This is something everyone should see. He is phenomenal. I knew we needed this. If you are old enough to hold a tablet you are old enough to be groomed. One example he gave was a person can use the calculator on a phone and create a private screen and you would never know it was on there," declared Upson.
It's often easier to grasp the fact that sex trafficking of minors exists in other countries. However, the sad reality is that sex trafficking is the second fastest growing criminal enterprise. Sex trafficking occurs when people are manipulated, coerced, or forced into the commercial sex trade against their will.
Sex trafficking is just as prevalent in America as it is in other countries. It has been found in a wide variety of the overall sex industry including, but not limited to, residential brothels, hostess clubs, online escort services, fake massage businesses, strip clubs, street prostitution, and pornography. This is a demand driven business where American children are being sold by people in business to make money. The demand comes from (mostly) men willing to pay for sex. The porn addicted American culture plays into this crime as women and children are degraded and used merely as objects for sexual pleasure.
Russ Tuttle is the creator and director of BeAlert®, which is the prevention and awareness strategy of The Stop Trafficking Project®. The primary method of implementation of BeAlert® is through presentations designed to 1) educate and empower students and 2) guide adults from awareness to action. A commitment to collaborate with trusted people and organizations has impacted the lives of over 170,000 people. The BeAlert® Strategy has proven impactful in a variety of settings.
Russ Tuttle is the president and founder of The Stop Trafficking Project®. He uses his strengths of communication, leadership, team development, and compassion to end domestic minor sex trafficking (DMST) before it begins by disrupting the exploitation of vulnerability. He is an active member of several coalitions and task forces in Kansas and Missouri.
Russ grew up for much of his childhood and teenage years in India. This created within him the drive to serve those who are unable to help themselves.
Tuttle presents all over the United States on human trafficking. His BeAlert® presentation brings awareness and provides a prevention strategy as part of The Stop Trafficking Project®. The primary method of implementation is through high-impact, fast-paced, and evidence-based presentations designed to educate and empower students and guide adults from awareness to action. We hope you will plan to attend.
The Stop Trafficking Project® is focused on domestic minor sex trafficking while not neglecting the sad reality of adult sex trafficking and human trafficking as a whole. They know they can't focus on all forms of trafficking everywhere to be effective. Their passion is to end domestic minor sex trafficking before it starts by disrupting the exploitation of vulnerability = END it BEFORE it STARTS™!
DMST includes any child involved in commercial sex. Generally speaking, traffickers (pimps, spotters, predators, sex sellers) tend to recruit children who are vulnerable due to a form of abuse in their past, but not always. Sex sellers use violence, threats, lies, false promises, debt, and other forms of control and manipulation such as drug and alcohol abuse. Young victims often fall for the "older boyfriend" or "Romeo pimp" who creates an environment where the victim believes he or she is in love before the forced sexual exploitation.
Looking to report a suspicion relating to human trafficking? The National Human Trafficking Hotline. You can call them by phone at 1-888-373-7888 or send a text to 233733.