SCHMIDT RETIRES AFTER 27 YEARS AT USD 494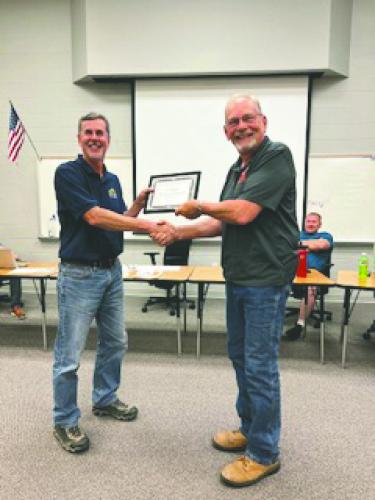 Steve Schmidt has worked for USD 494 for 27 years. And today, May 31st, from 1pm to 3pm at the media center is a come and go reception. Please come by and wish Steve well!

When asked what he will miss the most, Steve said, "Everyday, my mornings start by walking through the halls, saying hi to the students and staff, I will really miss the that!"
From high school to college in Garden City, five years with Pepsi, helping with the family business by flipping hamburgers, making donuts, mowing for the school and then Maintenance Supervisor. A new chapter is about to begin for Steve Schmidt, Director of Building and Grounds for USD 494, called retirement, or as he hopes, the chance to get caught up on projects of his own.
Born in Wichita to Jane and Henry "Hank" Schmidt, his father worked for Boeing, and he attended elementary school in Derby until he was five when his father took a job working for a farmer in Grant County. They relocated, and he attended a little country school called Red Rock for eight years.
Having a brother in Syracuse, Harry Schmidt who owned the Texaco, Hank learned the locally owned Hoff's Dairy King, owned by Virginia Hoff, was for sale. Hank, looking for a change, relocated his wife Jane, children, Carolyn, Steve, Robyn and Terrill, purchasing the Dairy King in 1970, renaming it Hank's Dairy King. Hank's had a reputation for their grilled hamburgers, delicious ice cream, fresh limeades to name a few favorites.
Schmidt graduated from Syracuse High School in 1974 and attended Garden City Community College for one year before starting a job with Pepsi, which he continued for five years. He had known his wife Linda before moving to Garden, and they started dating and married in 1978.
They relocated to Syracuse the summer of 1979 to help his parents with the business. His dad passed away in 1986 but his mom continued to help Steve and Linda, keeping it in the family for a total of 30 years, 23 of which Steve and Linda were managers.
During that time, they decided it was "Time to Make the Donuts", expanding their menu to include Paradise Donuts, a popular item with the community. "During that time, the school began offering volleyball and I lost a lot of my evening help!" said Steve. He found himself making donuts in the mornings and working late into the evenings helping with the cleanup.
After five years in 1995, they decided it was time to quit the donuts, but Steve found he had some spare time in the mornings. While talking to his cousin, Gail Sibley, he mentioned he maybe needed a part time job. Gail's husband, Dennis, was the Maintenance Supervisor for the school and called Steve the next morning and offered him a job mowing the school grounds from 6-10 am.
Instead of making donuts, Steve would mow from 6-10 am, clean up and then go to work at Hank's till evening which lasted from 1995-2002. "I actually thought I would work a couple years, then find something else. After two years I was full-time and it got tougher, having the Dairy King and the kids were young at the time."
His mornings began working at the school. Then he would stop, clean up, head to help through lunch at the Dairy King, go back to work at the school, then go back to Hanks in the evenings to help clean up. "We were getting tired.We worked hard seven days a week. There was so much to clean up each evening, but we had some great people working for us!" said Steve.
As time went on, there was some staff changes at the school and Superintendent Joan Friend offered him a full-time position. They made the decision to sell to Tom and Janet Thomeczek in 2002 who later sold it to Becky Jantz. She and her son Alex Hobson ran it as Big Al's and the menu changed to include pizza.
Steve's decision to retire is simple. "It's time for me to do something different, slow down a little, and mom's getting older," said Steve, "And it's time for me to do some things I want to do, spend more time with the four grandkids, the kids, their spouses and I hope to play golf, but especially spend time with the family."
Steve has worked for the district for the past 27 years this month, and leaves by being recognized as Staff Member of the Month. He was nominated for his leadership of eight staff members while having the responsibility to ensure all buildings and grounds are in good shape. He takes great pride in his work and is diligent in his efforts to serve all staff and students.
He checks the boiler each morning, which happens to be one of the worst catastrophes he remembers. He explains, "It was Sunday, and something told me to go check the boiler because we had been having problems with the valves and I found six inches of water in the boiler room!"
Steve was praised for monitoring all the facilities for safety concerns, organizing and scheduling needed maintenance, which sometimes involves getting called out in the middle of the night if a fire alarm goes off.
Steve can also be seen doing the hands-on work needed by helping custodians with basketball games, setting up for commencement to name a few. All of this requires a great deal of responsibility, great customer service for students, teachers, secretaries, and administrators.
Finally, he was nominated because he shines in all these areas, meeting all the challenges with a smile on his face and a true desire to serve others. His smile and willingness to help others will certainly be missed by all who know him.