The Lunch Room
Opaa is a common Greek expression for hurrah! But did you know Opaa! is a Missouri based company who manages kitchens for school districts? Kenneth Short founded Opaa! Food Management Inc. in 1978 and it is still family owned today, serving over 800 schools in over 250 school districts in seven states.
Mary Cockrum, Director of Nutrition Services at USD 494, since February, is employed by Opaa! and is pleased to be working in Syracuse. She previously managed Dollar General in Johnson but was searching for a job which would allow her more time with her family.
"We want to make the meal program inclusive to the school, not something separate and Mr. Larkin is very supportive with the changes we have made," said Cockrum, striving to live up to the company's mission of "Make Their Day." "I went to school enrollment in an attempt to bridge the gap between the lunchroom and the students, hoping to get to know them before school.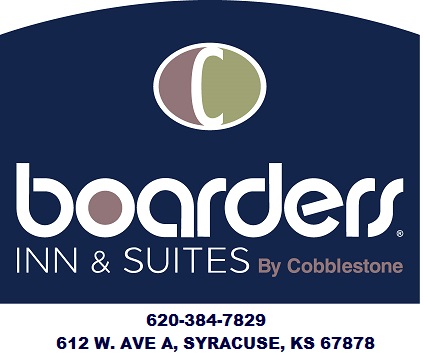 Since they are fully staffed this year, they are pleased to be making more homemade food instead of the prepacked food, "We certainly do not want anyone to go home hungry!"
Cockrum said, "I have the best staff, they know what they are doing and we try to make the kitchen a fun place to work and want the kids to enjoy the food and lunch experience." This year she has added a treasure chest and if a student is a good helper, they can choose something from it.
Staff members are Guadalupe Gonzalez who came to work because she wanted to get to know more people in the community and thought the lunchroom would be a good place to work. Diana Navar, is beginning year two and Nadia Salazar her third week. Tori Wilson wanted to work with kids," I like it and I remember one girl colored me a picture, other students do the same and they want to make sure I keep the picture and I still have it and the fifth and sixth graders can't wait to be taller than me."
Christine Harris, has worked nine years and loves seeing the kids faces every morning. "I help kids as much as I can to make their day and a lot of days the kids remind me they are almost taller than me!"
Carlotta Colmenero, head cook, managed a restaurant when the opportunity of working at the school came about. "I was not looking, and Eva (Birt) called me and offered part time, I told her I had to have full time and I have loved it from the first day, I love kids and I love to cook."
Over the past 15 years, Colmenero has been proposed to, and one of the students told their dad to fire her! She recalls the little boy asking her to marry him, "He even brought me a ring, and I still have it!"
But one of her funniest stories is when then Athletic Director Marty Lehman's daughter, Oliva, was in kindergarten and they came to the lunchroom to bake a gingerbread man.
As the story goes, a woman baked a gingerbread man and when she opened the door, he escaped. The exercise was done so the kindergarten students could search for him around the school, thus familiarizing themselves with the school.
Colmenero said, "Oliva got so mad at me because I left the door open and the gingerbread man got out and she went home and told her dad he needed to fire me because I let their gingerbread man out of the oven!"
They later found the gingerbread man in the district office, and she was made to come and apologize, "We laughed so hard!" said Colmenero.
They agree the kids are amazed by the dishwasher, maybe because of all the steam and one boy calls it the tray monster because it eats the trays!
Colmenero feels one of the biggest changes came about when they were no longer allowed to season the food with salt and pepper, "We can use all the spices we want, but not salt, and that is hard!"
Some of the challenges they face are long days with several beginning at 5:30 AM, preparing breakfast which is served at 7:00 AM and finishing their day around 4:00 PM after the fruit and vegetable snack, funded by a grant program, is served and cleaned up.
Harris and Colmenero both agree some of the fruits and vegetables will test many of the students to try something new. From asparagus to brussel sprouts, and one unique fruit called rambutan which is a combination of sweet and sour in one bite, similar to a grape.
Cockrum will not argue the program is an ever-changing process and her job is a 12 month contract. "I had the menu ready for the start of school, and they changed it on me, so I had to start all over!" But change in menu is inevitable, due to supply issues, "Sometimes they substitute items."
Feeding over 400 students a day can result in a lot of paperwork. Cockrum's job is to keep up with regulations, making sure the district is getting reimbursed for meals, completing menu productions sheets, "Anything that has to do with government programs, it's never routine!"
The breakfast menu is the same for all grades but the lunch menu differs from kindergarten through eighth grade who have one menu while the high school has another, "Mainly because of serving sizes," explains Cockrum.
Option one is a hot entrée, option two is an entree salad with meat, such as popcorn chicken or taco meat. Option three is Opaa! to go, which is a cold grab and go lunch.
The lunchroom is given a count each morning, "Some students change their minds when they see the hot option, so sometimes we may run short," she said.
Want to eat with a student? According to Cockrum, visitors are welcome. Simply check out the menu on the Nutrislice app, call the district office with your selection that morning, then purchase a meal ticket there and join the student for lunch. You may also e-mail Cockrum at mcockrum@usd494.net with your selection, but you must purchase a ticket at the district office.
The staff is offered a salad bar each day, and once a month, they serve the staff a special lunch. "Last time it was enchiladas, rice, beans and this month it is lasagna, and I believe the staff enjoys it," said Cockrum. They have also begun catering the board meetings.
Many of us have fond memories of school lunch at USD 494. The original cafeteria was once located under the grade school gymnasium. Students would go down a flight of stairs and were greeted by aroma of the meal that day.
Entering the lunchroom, you would get your milk, then follow around to the serving line, greeted with smiling faces by many great cooks over the years.
Doing a Facebook survey of past students' favorite food, hands down it was the cinnamon rolls and chili, close behind were spudnuts, stromboli, hamburger gravy and mashed potatoes, and chicken pilaf to name a few.
Other favorites were bread pudding, enchiladas, cinnamon sugar pie crust, and peanut butter balls coated with powdered sugar. One person mentioned a pile of spinach and a container of vinegar to go with it, one of my favorites!
More recent graduates' favorites were chicken patty Wednesday, BBQ rib on a bun, and broccoli cheese soup. Syracuse Elementary Principal, Liz Plunkett enjoyed spudnuts and chili as well as Eva Birt's beef and noodles.
Someone commented about the time the school received excess peanut butter from the government and began putting into every food that they made, even in chicken.
That was the day they staged a walkout, advising everyone to bring a sack lunch and leave the peanut butter chicken in the cafeteria, but to their disappointment, they had to eat in the gym, but they felt the lunches did improve after that.
I remember a juke box in the lunchroom and one song which got a lot of plays was "Simple Simon says"! The song was recorded by 1910 Fruitgum Company and included actions such as put your hands in the air, shake them all about, put your hands on your head, let your backbone stretch, and more. This probably frustrated the teacher trying to get the students to finish their lunch.
But what about the lunchroom ladies? How many times do you suppose they heard that song? While many things have changed with the school lunch program, one thing remains the same, it takes a dedicated group of staff members to feed the children, a tireless, sometimes thankless job, but one that has been appreciated for many generations. Hurrah to the staff.