WHARTONS RECEIVE BEEF SUSTAINABILITY AWARD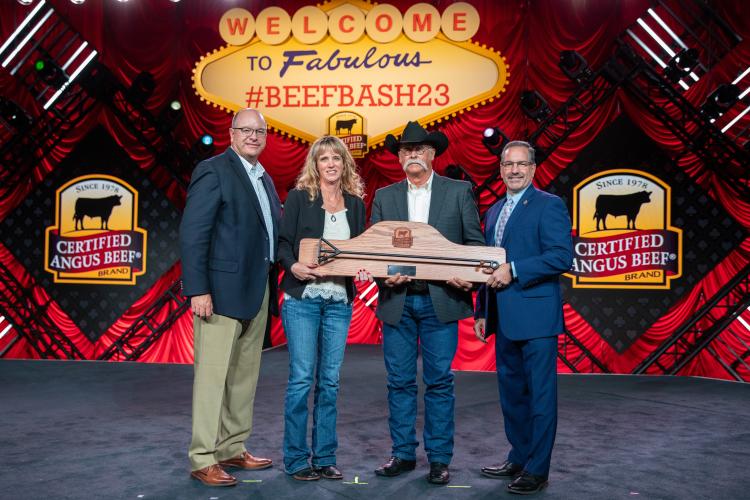 The definition of sustainability is the ability to be maintained at a certain rate or level, "the sustainability of economic growth" and the avoidance of depletion of natural resources to maintain an ecological balance, "the pursuit of global environmental sustainability".
This sounds complicated and challenging but local ranchers, Rusty and Shannon Wharton, two first generation cattle rancher owners and operators of Wharton 3C Cattle, have worked hard and have been rewarded by receiving the 2023 Certified Angus Beef (CAB) Sustainability Award in September at the brand's annual conference in Las Vegas.
"We have to be sustainable to be in this business." Rusty says. "If we don't do the right thing with the grazing management plan, if we don't take care of the cattle properly, and if we fail to bring together our customer base, then we're not going to be in business."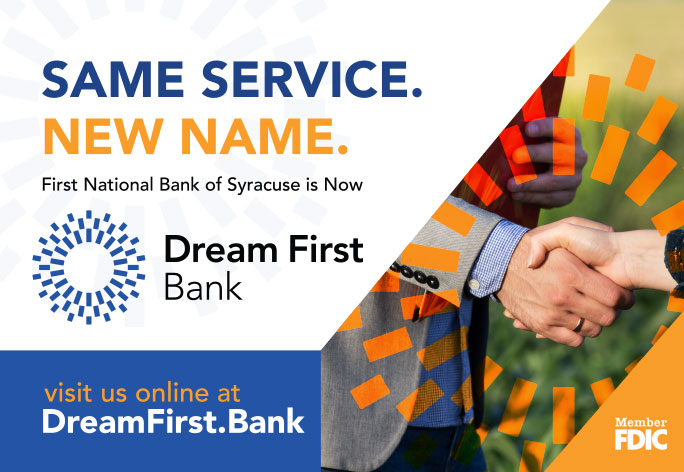 While at the conference, they attended workshops and were able to meet and establish relationships with key influential people in the industry. Shannon said the majority of attendees are from the packer on up the supply chain such as protein purchasers, retail stores, restaurants, chefs etc. "It is great to be able to interact with them and know that they believe in and appreciate our product as much as we do."
There were several highlights for them. One was interacting with the five chefs from CAB's culinary center and sampling their creations and the second was attending a session by Randy Blach from Cattle Fax who did a beef market update but from the retail viewpoint.
Shannon said, "Normally, as producers, we hear the updates from a production / producer standpoint, but to have the information presented from the end user perspective was a good reminder of the importance of the entire supply chain."
The couple tracks everything from conception to carcass data. A recent load of cattle was 100% Certified Angus Beef ®, including 92% Prime. They achieved 87% or higher CAB and Prime across all their 2021 fed cattle.
Raising quality beef is not their only goal but also the quality of the land. They maintain their certified angus beef by retaining ownership of them throughout the feeding period and collect carcass data on all of them.
Their operation is made up of about 600 head spread across more than 35,000 acres in southern Hamilton County, in addition to a 1,000-head grow yard which prepares calves for finishing.
One of their challenges is Mother Nature. Rusty states "She's a fickle and unpredictable partner." Shannon seconds that by saying, "Everyone in agriculture faces many of the same challenges, environment, markets etcetera, but the premiums we receive for producing what we do have enabled us to withstand the market lows."
The Whartons relocated to southwest Kansas in 1994 from Kentucky where they met and married. Rusty fell into commercial ranching via a rodeo friend; Shannon found her passion for cattle through Block and Bridle at Penn State.
After receiving her master's degree in cattle breeding and genetics from the University of Kentucky, Shannon wanted to go west to Montana, while Rusty wanted to go to Texas. The couple settled in southwest Kansas where they both were able to work at Grant County Feeders in Ulysses.
In 2005 they relocated to Hamilton County. While they have been managing the ranch for various owners since 2005, the last time it changed hands was in 2016, they made the numbers work, purchasing the cattle and a little land, leasing the rest.
Shannon became involved in the U.S. Roundtable for Sustainable Beef (USRSB) shortly after their inception in 2016 when she was managing a research center for a feed yard and has remained active.
Rusty and Shannon are equal partners with a shared passion for cattle, each having their own areas of expertise which do not overlap except for the cows. "One of our greatest rewards has been working together, side by side, raising our family on the ranch and the relationships and friendships we have developed with industry leaders."
The balance of pure joy from the hard work of doing something they love and riding out the rough storms along the way turned two first-generation cattle ranchers into legacy builders. "I hope the legacy of our ranch is quality," Rusty says.
From left to right - John Stika, President of CAB, Shannon and Rusty Wharton, Bruce Cobb, Executive VP of Production/photos courtesy of Shannon Wharton