Wheatland Electric's 72nd Annual Meeting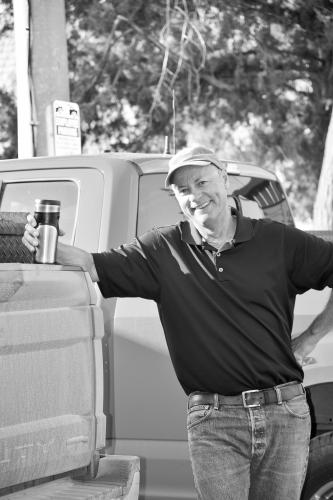 At the 72nd Annual meeting of Wheatland Electric, several Syracuse individuals were honored. Randy Coleman, Stacey Addison-Howland, Alex Moser, and Ryan Thompson.
Randy Coleman began his career with Wheatland Electric when his aunt Barbara Coleman told him they were hiring in the warehouse. Forty years later Coleman is the district manager for Syracuse, Leoti, Tribune, and Scott City.
"Wheatland Electric is a great company to work for - good bosses, good co-workers."
A lot has changed in forty years. A lot more technology. Once upon a time workers would go yard to yard reading meters. Today it's all computerized but Randy says the equipment is much safer. Trucks are safer too.
Randy laughs remembering how once a cat was on top of a 40 foot pole. He and his bucket truck were called to help retrieve the cat.
"I got the cat in the bucket and it freaked out, scratched my body as it crawled and then it jumped 35 feet to the ground, all while the owner was watching. I learned to wear a rain suit or coveralls when dealing with cats. They don't like it at all."
Stacey Addison-Howland was re-elected as representative of District 4. following the 2020 Annual Meeting held Aug. 26 in Caldwell, KS, and at seven remote meeting locations across southwest and southcentral Kansas.
Howland recalls Pat Riley approaching her to fill his position as he retired in 2016. "I visited with Pat and recalled how important this issue was to me. I was brought to meetings as a child. My grandparents and parents taught me about the REA (Rural Electricity Act) enacted by former President of the United States, Harry S. Truman."
Howland is passionate about co-ops in Kansas and especially about Wheatland Electric. "They do so much for communities. They provide water, broadband services and electricity. And they engage their board with classes."
Howland added, "I represent a wide spectrum of members, as a small business owner, an insurer, and a residential owner, myself. I try to make sure all are represented.
Members of the electric cooperative who attended the 2020 Annual Meeting voted to elect Josh Young, a senior vice president with Security State Bank from Leoti, KS, as their District 2 representative. District 2, one of Wheatland Electric's seven service districts, encompasses Wichita County and Wallace County.
Members also voted to re-elect the following trustees to their positions in their respective districts: Katie Eisenhour, District 1 (Scott County); Sand John Kleysteuber, District 5 (eastern Kearny County, Finney County and Gray County).
Young won a contested election against Brady Harbin, banking center president of Western State Bank in Leoti. Young is replacing outgoing District 2 trustee Vic Case, who served as a trustee from 2008 to 2020.
The gathering in Caldwell was simulcast to Wheatland members via a livestream video at each of these locations, and members were able to ask questions, offer comments, or choose to make nominations from the floor from their respective locations.
Following the declaration of quorum, Wheatland Electric Board of Trustees President William Barnes announced 227 members present in person, including at remote meeting sites, and 38 members present by proxy.
Furthermore, CEO and General Manager Bruce W. Mueller also presented an annual summary to members present including touching on practices that were adopted in response to the COVID-19 pandemic this year.
Some of those responses included suspending disconnections for nonpayment through June 1, increasing broadband internet speeds to support members who might be learning or working remotely from home, and opening wi-fi spots for free public use.
Asst. General Manager Trey Grebe also presented awards to local students who were winners of Wheatland Electric's Electric Cooperative Youth Tour (Washington D.C.) and Cooperative Youth Leadership Camp (Steamboat Springs, CO).
These students included Ryan Thompson, Syracuse High School.
Due to COVID-19, these students were unable to attend their respective camps and tours and are instead receiving $1,000 scholarships to the college of their choice upon their high school graduation.
During Wednesday's meeting, Grebe also presented $1,000 scholarships to the seniors graduating from 13 public high schools (and one at-large community) represented in Wheatland's service territory. Alex Moser was one of the recipients.