A SUNSET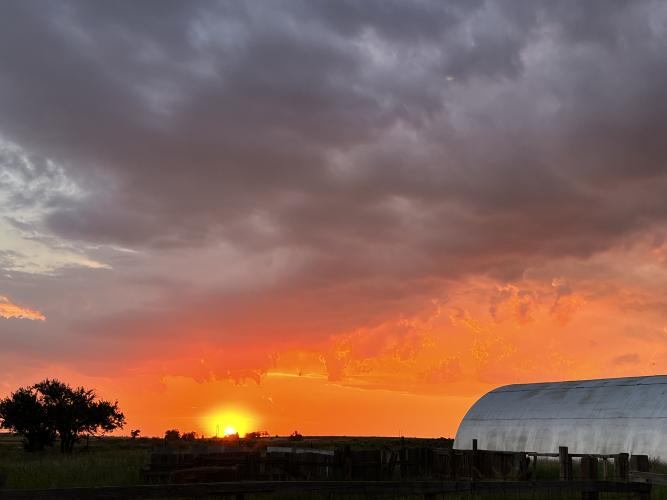 How's your life going? Some of you are still in summer. We started back to school here this week.
The summer sped by faster than I ever remember a summer going by.
Life is moving faster and faster and all the things I need to do are falling behind.
I got frustrated by a few things, bogged down by others, and instead of feeling happy and proud of all that we accomplished I got stressed and upset at all the expectations I set for myself that I am not meeting.
I visited with a few moms who were struggling with real crises, things that seemed impossible and suddenly my huge problems became tiny.
Then Tuesday night at the sheep barn, the sun began setting and the colors were vibrant and beautiful and I felt at peace.
For someone who craved city life so long ago, I can't believe how much peace I have at the livestock barn.
I have changed. And I am happy.
For all the rushing there is a slower pace here. One that puts relationships before things.
Rural life seems to be more about hard work, civility to others, raising children in the outdoors and teaching them to care for animals and respect.
The sunset reminded me of His goodness. How He takes care of us. And how if we stop for a bit, we can find Him again.
In my non-stop rushing I have missed quite a few things. And I can feel the difference.
So for something different, I just want to stop and share a sunset with you.
I know a picture probably can't do it justice but western Kansas skies are phenomenal.
To think I grew up where I never saw a sunset. So sad!
Maybe if we stopped once in a while and found a way back to nature, it would help.
I hope you enjoy!