Please or Thank you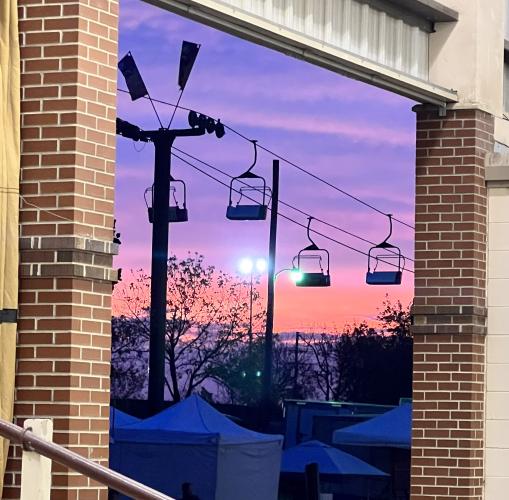 I am home from State Fair. A little excited, a little behind, a little tired, and a little sore. I walked almost eight miles the first day. I feel like that is worth noting. To all the show parents out there, I see you.
When I got back, a few situations arose with myself, a few friends are battling some obstacles, and the list of things to catch up on seems endless.
I noticed my prayer life with God seems to be like begging. Please God this. Please God that.
All of a sudden it hit me. God goes before me.
What if instead of please we said thank you?
God thank you for what you are doing in my life. Thank you for removing that person that wasn't healthy for me. Thank you for what you are preparing ahead of me.
Wow, I felt stronger immediately. Sometimes I forget I am God's daughter. Sometimes I shrink and become afraid as if the obstacles bigger than me are bigger than God.
They aren't.
Faith in action is important.
It comes with trust, it comes with listening, and it comes with believing that if one door closes another will open.
And how often are we actually listening to Him? I admit I get excited and just want to move forward without patience. I know I don't have much of that.
But God. We often say please, ask why, and don't understand what's going on. But do we stop and ask beforehand?
Some of the worst situations I got myself in, God never asked me to be in.
I just decided why not.
Bad idea. Today it doesn't matter if I want it or not, I need to ask. I stop often in my head and say God, keep this away from me if you don't want it for me.
Or if this is good or okay, let me know. And please be crystal clear because I get distracted or hear what I want to hear.
Whatever mountain we are facing, we have a few choices - cower down, beg, or thank Him. Or ignore Him. But that usually doesn't work well.
If I turn on the news, there is fear. War, famine, questionable leadership, stabbings, murders, and more.
What are your eyes focused on?
Where are you placing your trust?
Are you begging?
I admit I have been.
As I am getting older, there is less time on this earth than I thought. Moments matter. So if something isn't right, if I am not where I am surpposed to be, if the people around me are not who I should be around, then move them God. Give me direction and put me on the path you want.
Scary isn't it?
We are creatures of habit.
This past weekend when I walked about fifteen miles, pushed, pulled, lifted, woke up around 4:30 AM and got really uncomfortable, I saw that I could do more than I thought.
It hurt. My back and feet were sore,But I did it. And I felt stronger for it.
I got a bonus. As I spent time with my daughter and her sheep practicing in the arena in Hutchinson, I looked up and saw a beautiful sunrise.
Maybe it's time to shake things up. Maybe it's time to thank God for him moving boldly in your life.