Junior High Girls Volleyball "A" Team High Plains League Champions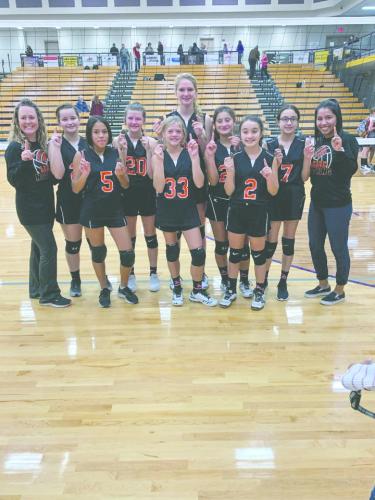 On Monday, the Junior High Girls Volleyball team traveled to Lakin for the High Plains League Tournament in Lakin and the "A" team came away as the HPL champions.
Game 1 was against the Trojans. Syracuse wins set I, 25-15, loses set II 21-25, and wins set III 25-19 to take the match.
Bulldogs beat Sublette in two games, 25-18 and 25-16.
Wichita County was up next. We won in three sets. 26-28, 25-15, 25-9.
Last game before the championship was against Lakin. The Bulldogs win the match in two sets- 25-19 and 25-22.
In the championship, they beat Wichita County 25-18 and 26-24
B Team girls ended their season with two losses at the tournament.
B Team vs. Wichita County, L 18-25 and 14-25.
Game Two was verses SWH, L - 21-25 and 20-25.
Coach Rhoni Gould said, "The JH girls had an outstanding volleyball season! They worked hard every day in practice and gave it their all in our games. Our big focus this year was on keeping a positive attitude and high energy even when things were not going our way. This paid off in the League tournament. The girls played so well together. They pumped each other up and fought hard to get to the championship game and we came out on top! I am so proud of each and every member of the volleyball team. They improved their volleyball skills, but more importantly, they learned some life lessons about working as a team and staying positive."