Schwieterman Runs Half Marathon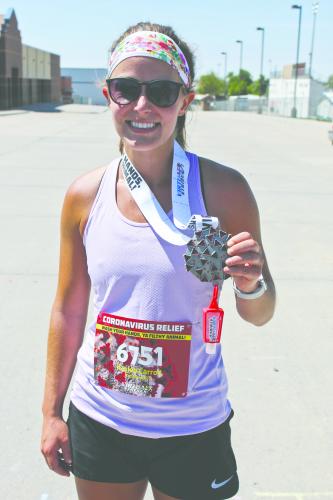 Although Sunday, May 17, 2020, was not the day local resident Kaylee Schwieterman imagined, it was still a monumental day. Schwieterman, along with her brother planned to run a half marathon in Denver Colorado, in honor of the 20th year of their grandmother's death, due to Alzheimers complications.
Schwieterman began running in October to deal with the stress of school and grad school. While searching for a charity run close to her family in Colorado Springs, she discovered the run for Alzheimers in Denver, thinking it would be a surprise for their dad, in honor of his mother.
After the corona virus outbreak, Schwieterman found out on March 19, her 25th birthday, the race had been cancelled. She decided to keep running to see if her body could do it. "I grew up playing sports but was not that competitive, and I never thought of myself as a runner."
Struggling to stay motivated because the school weight room closed and that was where she did most of her training, she resorted to training at the school track. "I had some awesome people to support and motivate me," she said.
Schwieterman referred to her support group as the running community, ones who have ran half marathons, Jessie Bloyd, Liz Plunkett, Amy Norton, Tasha Sabata and Kayla Norton. "These girls were super encouraging, talking about some of their struggles, giving tips on how many days a week to run." She also used an app on her phone to track and calculate different workouts for her.
Sabata recalls her and Schwieterman running a 5K last fall, and she knew then, that Kaylee was addicted. Sabata had planned to run at Denver also, but due to health issues, supported her by encouraging and helping to prepare her mentally for the race. "A lot of it was her own doing," said Sabata.
The course in Denver would have taken them along Colfax Avenue by iconic spots like VooDoo Donuts, Irish Snug, Cathedral Basilica. All while running by the Capitol, Civic Center Park, 16th Street Mall, Convention Center, with the Colorado mountains in the background. In addition, some of the spectators would have been rhinos, elephants, camels, monkeys, tigers as the route was a mile through the Denver Zoo.
Schwieterman's route on Sunday had quite a different view as she began north of Syracuse on County Road 14, with nothing but the wide-open plains of western Kansas. She headed south on the dirt road Q, seven miles. At the seven mile mark, the running club along with Jessie and Kayla's children, Rylan and Coy, first met up with her, yelling, and waving signs in addition to providing Gatorade and sugar gels containing caffein and sodium for fatigue and muscle cramps.
Continuing south, crossing Highway 50, she ran on the frontage road along the railroad tracks to the Tamarisk Golf Course, where she was again met by her running group. "We tried to meet her every couple of miles," said Sabata.
According to Schwieterman, miles eight, nine and ten were the hardest because she had a hard time drinking enough Gatorade, and she began feeling faint. "But my support crew came along to supplement with more gels and Gatorade to help me."
Schwieterman's thoughts along the way was grateful for what her body was able to do knowing some people cannot get out and run, or who can't get out and exercise. "I had to keep reminding myself that my legs knew what to do, the reluctance was in my mind, because my body knew what to do."
Continuing back through John Armstrong Park, back along the tracks, north on the hospital road turning west on toward Highway 27 circling around to head east, her supporters were there again as she headed toward the Barney Akers Gym.
Turning the corner, heading north to the finish line behind the school, this was her finish while training so she knew what it would feel like to be gassed and coming up the hill. While her husband, Scot, warned her there were people at the finish line, she thought, I really have to push and look like I'm doing something.
Scot said, "It was awesome that she stuck to her commitment and thankful her friends and neighbors helped her fulfill it."
At the finish line, Schwieterman was greeted with Alicia Keyes' song, "This Girl Is on Fire" blaring on a boom box, New Year's Eve like noise makers and confetti strings, screams of encouragement in addition to her dog Mylie greeting her. She finished in 2 hours and 20 minutes, just five minutes short of her goal.
Plunkett knows how tough the training is but knows how the official race day makes it all worth it. "Since she wasn't going to get that we wanted to recreate the atmosphere as best we could." Adding, "it was awesome to be there for her, and I'm really proud and super impressed with her dedication."
Bloyd realizes it would have been easy to stop training when the race was cancelled due to COVID-19, but she kept going and finished strong. "I'm really proud of her for the dedication to her training and seeing it through to race day."
Schwieterman said, still breathless from the race, "It was so cool, everything that I felt when I got to the top." She appreciated Kayla and Coy coming to meet her on the golf cart, helping to push her that last stretch. At that moment, she felt good and proud to live in a community that supported her. "It's very unique and not something I ever expected growing up in Colorado Springs."
According to Sabata, Schwieterman really wanted a racing bib to commemorate the event, so Sabata found a combination of the bib and medal, from the Virtual Strides website which raises money for several charities. This year, one of their charities was for Coronavirus Relief.
Had she run in Denver, her medal would have included a view of the mountains, city, stadium, and Capital building, also an elephant and fire truck. Crossing the finish line in Syracuse, her medal was a 3D coronavirus molecule medal, featuring a toilet paper patterned ribbon, with the words, "Wash your hands, ya filthy animal" and an attached silicone keychain containing a one ounce bottle of hand sanitizer.
"Small town experience is something new and I love it and this is a perfect example of how communities are great about rallying around people in times like this," said Schwieterman gratefully.